VP Newsletter
By Rod Doty, VP
Select a tab below to view the newsletter indicated.
February 7, 2017
Hello All:
Last Sunday:  On Sunday we started from the Zoo for "David Does Descanso." The three of us who rode this one last October when it got rained out were there again along with another 10 riders. It didn't rain this time, but it was sort of gloomy much of the day. Phil Whitworth took a photo of the group at the start. This time we were looking at the camera (well, almost all).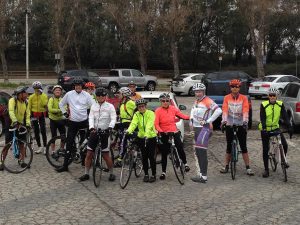 From left to right, that's David Nakai, Rick Gordon, Gary Murphy, Thomas Knoll, Me, Hoy Quan, Mark Rubin, Terry Neff, Ann Trank, Nancy Domjanovich, Phil Whitworth, Jacques Stern and Russ Brynes.  I'm definitely getting better at Photoshopping Phil into the photos.  The only thing I see wrong is his feet — sort of looks like he is floating there.
Not only did we have a good turn-out for the ride, but everyone opted to do the long which included one heck of a climb. Congratulations to everyone! Here is a shot taken by Gary Murphy at the top of that climb where we regrouped to catch our breath.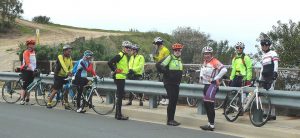 You might notice that Phil is in the exact same pose as in the first photo above.   Here's another shot from Gary of the climb in Mount Washington.  I think it shows how pretty that area is.  It's amazing that it's really in the heart of the city.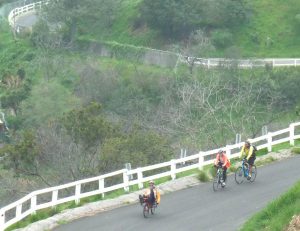 Finally, since the name of the ride is "David Does Descanso", Phil took this shot of David Nakai, the ride originator: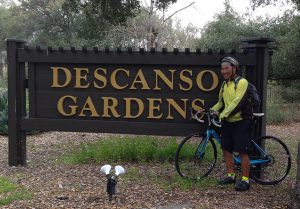 We split between a few different places for lunch but then came back together for the fast return downhill back to the Zoo, except that a few stopped off to buy some Girl Scout cookies from a roadside stand which some girl scouts had set up.
Next Week:  This weekend we have centuries on Saturday and rides from the Corner on Sunday. On Saturday, the centuries (both full century and metric century) start from Long Beach and head down into Orange County to ride the "Bikeways of Orange County."  Both routes ride a number of bike trails and are therefore fairly flat, but the full century does throw in one climb which adds quite a bit to the total elevation gain.  The start time is 8 a.m., but I'm thinking of starting closer to 7 to give myself a bit more time.  Anyone who wants an early start is welcome to join me.
On Sunday, the ride is "Exploring the Environs" which leaves from the Corner.  Both the long and medium head out to the valley, travel to the west valley for lunch and then return by going over Topanga to the coast.  However, they each use somewhat different routes. for instance, the long goes to the coast on Old Topanga and the Medium uses New Topanga.  If I'm not too tired from the century on Saturday, I hope to be there.  I don't have an "on bike" reading of the elevation gain for the long route and I would like to get one.
Dipper News:  Last Thursday was Groundhog Day and it was also Gary Murphy's birthday. The Triple Dippers helped him celebrate with a cupcake and a candle. Here's a shot taken by Emma Pham (but with Phil's camera).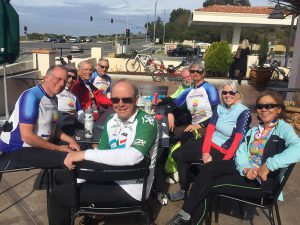 I think he had already eaten the cupcake when this was taken.  Gary intended to ride his age that day, but actually did better — he got in a century.
Well, it's almost midnight so I had better send this.  I would have gotten it out earlier, but then I decided to try and Photoshop Phil into that first photo and that took me a while.  Too bad we don't have someone in the club who knows something about Photoshop.
See You On The Road
Rod Doty, VP
January 31, 2017
Los Angeles Wheelmen VP Report – January 31, 2017
Hello All:
Sunday: Last Sunday was a beautiful day after so many rainy days — warm and clear — the first time I've taken off my jacket during a ride in a while. After we were joined by Mel Cutler (riding from home) I think we had 15 riders, but I have since found out that Kit Gray started about a half hour after the rest of us, so I guess we had 16 riders.  That's pretty good.  Here's a very unposed photo taken by Phil Whitworth at the start near the Rose Bowl.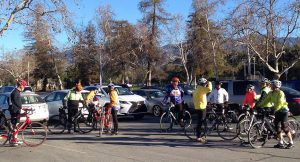 Kit said he rode the medium, but I think the rest of us did the long. There was only a 3 or 4 mile difference between them.  Here are a couple more shots taken along the San Gabriel River.  The first was taken by Dennis Miller and the second by Phil.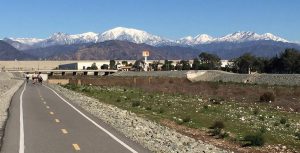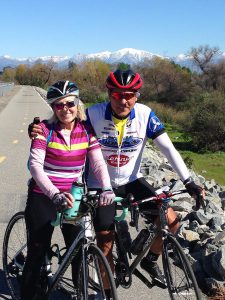 That's Nancy Domjanovich and Dennis Miller in the second photo.  It seems like I keep including photos of the snow covered mountains in these e-mails lately. I think it has been so long since we have seen the mountains like this that we just can't get enough of them.  When we got back to the Rose Bowl, quite a few of us went for a lap around the Rose Bowl to get our mileage for the day up to Metric Century level.  I just checked the Century Challenge stats on the club web site and it does appear that there was a sudden surge in reported metric centuries.  You can view the site here:  http://www.lawheelmen.org/los-angeles-wheelmen-century-challenge/
Next Sunday: Next Sunday we will be riding "David Does Descanso."  David Nakai, the originator of these routes, has said he plans to be there, so you can complain directly to him when the hills get tough.  Yes, these routes are hilly, but  they are also very short, so you can take your time on the hills. Actually, except for one climb on the long route, none of the climbs are really too hard. The climbs through Elysian Park and through Mount Washington are rather pretty.  The one hard climb on the long is pretty too I think, but I'm usually breathing too hard to notice.  These routes were rained out last October, so I rescheduled them for this week. Looks like we will be in luck and have good weather this time, so why not come out and join us.
Triple Dipper Ride: Last Thursday the Triple Dippers had heard that the Space X booster rocket which had been recently launched from Vandenberg and then successfully landed on a barge in the ocean was now on a transport truck in San Pedro awaiting it's trip back to the factory to be refurbished. Most of the group decided to ride on down and take a look at it. Here's a shot from Phil Whitworth of the group in front of the booster.
Unfortunately it had been wrapped for travel, so the group couldn't get quite the view hoped for.  I didn't go with them, but based on this photo, it seems smaller than I would have expected.
David Nakai has indicated that he is already working on his presentation for the Installation lunch. Sounds like it will be very entertaining. But a word to the wise: It will probably be funnier if you have already seen the movie "La La Land".
See You On The Road
Rod Doty, VP
January 24, 2017
Hello All:
Last Weekend:  Last Saturday was day one of our Annual Janus Centuries. Despite all the rain we had been having, predictions were for one clear day before the next storm came in so I was surprised more riders didn't take advantage of the break in the weather.  There were only 3 of us there: Jacques Stern, Thomas Knoll and me.
Jacques and I were only there to do the metric century (actually scheduled for Sunday but Saturday looked like the better day). Thomas was prepared to ride the full century, but opted to ride with us.  The weather proved to be even better than expected. It wasn't quite as cold as it often is at the beginning of this ride and the sun was out most of the day. There had been talk of winds, but they never materialized.  If anything, we had a very slight tailwind pushing us back in the 2nd half of the ride.  Snow was visible on the mountains behind Ojai — it was pretty, but I didn't take any photos.  This was a new route this year and it proved to be fairly easy. We all finished in the early afternoon.  I was almost wishing I had opted for the full century.
Sunday was day two, but as you all know, it rained and rained and rained. I doubt anyone showed up for the ride. I would be surprised if even David Nakai would have ridden in that weather.  I was glad I had at least gotten Saturday's ride in.
Next Sunday: The long term forecasts are for sun, sun, sun, so let's ride while we can and all show up for Sunday's ride. We will be riding from Brookside Park (next to the Rose Bowl) down to Legg Lake. These are not difficult routes. The long and medium are almost the same length and the same amount of elevation gain. The big difference is that the medium actually visits Legg Lake while the long does not.  The long is very close to the 60 miles needed for an official metric century for the club's Century Challenge.  I'm planning to add one lap around the Rose Bowl at the end of the ride to make up the difference. Why not join me?
Ballona Creek:  I didn't get any photos from Saturday's ride, but on Sunday I took some photos of Ballona Creek where it passes my condo near Overland. Lots of us ride the Ballona Creek bike path from time to time, but you rarely get to see it like it was on Sunday.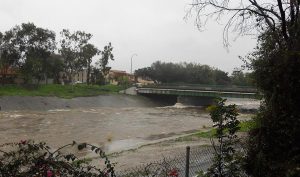 This is taken from my parking structure. That's the Overland bridge.  Once or twice over the years I have seen the river higher. Once I even saw it as high as the green vegetation on the far bank. But this is the highest I've seen in in a few years. The photo doesn't really capture how fast the water is moving or the roar it makes.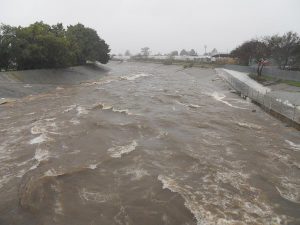 This is from the Overland bridge looking west.  The pedestrian bridge is in the distance. I'm always amazed that the little stream that you could easily wade across most days can turn into this in a matter of hours.  Here's one more photo simply because I don't have any others this week.  The building is the county library next to the creek.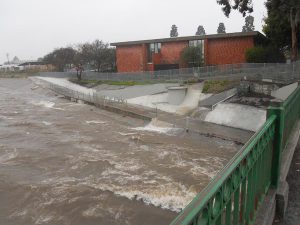 Installation: Good news!  We have found a location for our installation lunch on March 5th. It will be held at Lindberg Park in Culver City. More good news!! David Nakai has indicated his willingness to act as MC for the event and to provide the day's entertainment. He did this a few years ago and it was very funny. 
Palm Springs Century. Our own Dennis Miller rode the Palm Springs Century last Saturday. They escaped the rain as we did here, but, as is often the case out there, it was very windy.  Congratulations Dennis! I see by the Century Challenge web site, Dennis has 5 centuries so far this year. Considering the weather we have been having, that's amazing.
See You On the Road
Rod Doty, VP
January 17, 2017
Hello All
Sunday: Last Sunday we caught a break in  the weather and were able to ride "Bike Trails Galore" as planned. I think there were 10 or 11 riders.  If memory serves they were: Sheila Szymanski, Thomas Knoll, Lee Meller, Chris Hedberg, Jacques Stern, Hoy Quan, Dennis Miller, Me, and Kit Gray who was accompanied by one or two women whose identity I did not get.  Sheila & Thomas took off before the rest of us, but I assume they did the long. Kit and all the remaining women did the medium which left a stag group of 4 (Jacques, Dennis, Hoy and me) doing the long. There was some concern that the recent rains had flooded portions of the bike trails we would be riding, but it turned out to be fine. The tunnel on the San Gabriel River was dry. There was some water under one underpass, but we were able to ride through it. We did have to detour around a large pond on the Rio Hondo trail in the Whittier Narrows area, but we were able to take nearby Lincoln Ave. around this problem.  Here's a photo Dennis took of the snow covered mountains reflected in the reservoir behind the dam near the top of the Rio Hondo.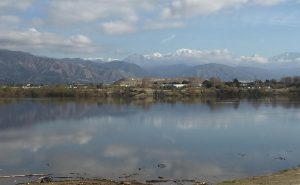 I had been concerned that if this reservoir was too high, it would cover the bike path which crosses behind the dam, but it has a way to go before it gets that high.
It was the usual long slog into a headwind getting down to Long Beach on the LA river trail. I was beat and was really looking forward to some of those Five Guys french fries. I was amazed that the other 3 opted to skip lunch and continue on to the finish. My hat is off to them — I needed my fries. Fortunately, the remaining 14 miles back up the San Gabriel River was with a tail wind all the way and made for a nice finish to the ride.
Here's another shot taken by Dennis along the Long Beach bike path.  I liked it because it shows a nice contrast  between a cruise ship of the past and a cruise ship of the present.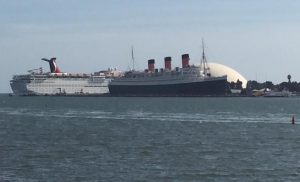 Next Weekend: This Saturday and Sunday we will be running our annual "Janus Sequential Centuries." This is a century on Saturday and then the same century on Sunday but in the opposite direction. The route is essentially the center of the Grand Tour Highland route without Casitas. That means it is somewhat hilly.  Most notably, you climb up Potrero on Saturday's route. But of course you go down on Sunday.  This year we have added a metric century version of Sunday's route.  Right now, the weather looks questionable for the weekend, but it might be good for one of the days. If it looks good for one of the days I plan on riding the metric century even it that means riding it on Saturday instead of the scheduled Sunday.  So, just because the metric is only scheduled for Sunday doesn't mean you have to ride it that day.  So, check the weather on Friday and I hope you will be able to join me.
Weather: The way it has been raining so much this year, I think you just have to grab a ride whenever you can. Our routes for the weekend are always available on the web all week, so you could always download them and ride them on your own when you can. In keeping with this "ride when you can" philosophy, today many of the Thursday Triple Dipper group decided it was probably going to rain this Thursday, so we got together and rode the usual ride today.  We were joined by a few members of Dennis Miller's "Friends of Flomax" group who often ride on Tuesday. Here is a photo of the combined group at our break at Golden Cove in Palos Verdes. (photo sent by Phil Whitworth).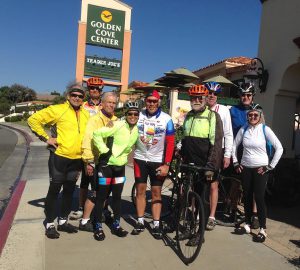 Meeting: There is a monthly club meeting this Thursday. It will be at the home of Laverne Boethling in Redondo Beach. Nominations for club officers for the coming year will close at this meeting, so if you don't want to see the same gang running the club next year, show up and nominate yourself.  At the meeting we usually approve the minutes of the previous meeting, so please see the attached copy of those minutes.
Installation Lunch Venue:  We are still looking for a venue for our annual Installation Lunch which will be held Sunday, March 5th. If you have any ideas for this, please contact one of the club officers or come to the meeting. 
See You On The Road
Rod Doty, VP
Archives
Select the VP Newsletter Report indicated from the documents below…