VP Newsletter
By Rod Doty, VP
Select a tab below to view the newsletter indicated.
September 27, 2016
Hello All:
Last Week  Last Sunday, the scheduled ride was to takes us out to Cal Poly Pomona, but it was predicted to be very hot out there and I had enough of that the prior week. I don't know if anyone actually showed up for the ride.  I haven't heard from anyone. I do know that two different groups that often show up for our Sunday rides each independently decided to show up in Marina del Rey for an alternative ride near the ocean. I joined one of these groups for a short ride down to Palos Verdes and back.  I stopped at Golden Cove while the rest went on to San Pedro. Well, it's a shame we couldn't get the scheduled ride in because I like those particular routes. I think I might schedule it again soon rather than waiting the usual year and a half for it to come due again.  I've already scheduled through December, but January is open, so look for it to pop up again then.
This Week  This Sunday is our re-scheduled Grand Tour Lite. It is supposed to be much cooler then and these routes (except the double metric) spend most of the day near the coast.  It should be a nice day for a century. Pre-registration is closed now, but you can always show up the morning of the ride and register late.  As club members, you get a $5 discount so it's a bargain even with a late fee. Full information is on the club web site.  I plan to be there and riding the standard century but if I'm not feeling it that morning, I suppose I could always skip the loop in Oxnard and settle for the metric century.  I hope to see a lot of you out for the ride.
Tom Estabrook  Member Tom Estabrook passed away a couple of months ago, but his memorial service was held just this past Friday at the veteran's cemetery out in Riverside. A few of our club members attended. The following day, the Foothill Cycle Club, which Tom rode with much of the last few years, held a memorial ride for him in the Pasadena area. I and a few other club members attended this ride.  
Tom was a long time member.  I would guess he must have joined in the 1960s or early 70s. He was one of the first members I met when I joined the club. As I recall, he led AYH qualifying rides and I had done a couple of those. He was known for loving to climb. Often on club rides he would suggest a deviation from the route and I learned to beware of his "little side trips" because they always seemed to involve doing some hill I hadn't planned on. Only a few years ago (when he was probably in his late 80s) I ran into him up at Chantry Flats.  He mentioned that he was still riding up Chantry once a week.  He was an amazing rider and always in an upbeat mood.  I believe he continued to ride right up until the end. In fact, I think I was told he was getting ready to ride when he passed away suddenly.   He was 93.
 A few years ago Chris Hedberg organized a 90th birthday party for Tom.  I took the following photo of him at that party.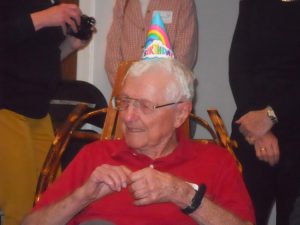 Extra Photo  Since no one rode the regular ride last Sunday, I don't have any photos. Gary Murphy sent me one from the alternative ride down to Palos Verdes. I hesitate to include it here since it wasn't really a club event and the two riders in the shot were in a photo I included only last week and I don't want them getting a swelled head.  But I've got nothing else, so here it is.  That looks like Catalina in the background so it must have been fairly clear.  It looks like they were on the climb that goes up past Trump Golf Course — I recognize that fence.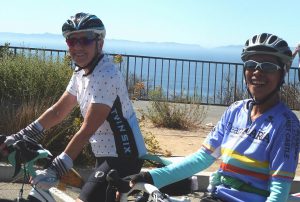 Well, nothing else to report this week, so I'll let you go.
See You On The Road
Rod Doty, VP
September 20, 2016
Hello All:
Last Sunday we started from Pico Park and rode over Turnbull Canyon.  It was predicted to be very hot and they weren't wrong.  Two riders (Sheila Szymanski & Thomas Knoll) decided to beat the heat and started an hour early.  I had a  report from Thomas and he said they rode the medium, skipped lunch and were done before noon. He also mentioned that this was Sheila's first club ride since her accident earlier in the month and that she was looking good.  Six of us started at the regular time. Although some thought about doing the long route, by the time we got to the decision point, it was so hot, we all turned to do the medium.  Phil Whitworth took this photo at the start: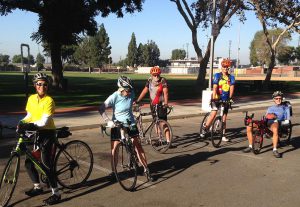 From left to right that's Emma Pham, Nancy Domjanovich, me, Jacques Stern and Terry Neff  and of course Phil was taking the photo.  We all pretty much stayed together except I dropped back at the end.  At the top of Turnbull I discovered that I had forgotten to bring my Cytomax.  It was the wrong day to forget my electrolyte replacement and by the end of the ride I was really dragging.  I hope I never do that again.  The medium was only 52 miles, but Nancy and Phil still had enough pep at the end to go out for another 8 miles so they could record a metric century in the club's century challenge.  Hats off to them.
This Sunday we will be riding "Cal Poly By Golly" which starts at the Puente Hills Mall. All the routes tour the Cal Poly Pomona Campus. The long does quite a number of hills, but nothing too big — hills like Grand Avenue and Carbon Canyon. Of course the medium does less climbing and the short does hardly any at all. They are talking heat again by the weekend and these routes will take us inland so be warned. I plan to be there with my Cytomax. It's possible some will want to start early to beat the heat. You should check the club's Facebook page to see if anyone posts about starting early.
Last week members David Nakai and Mel Cutler participated in a nighttime brevet.  David sent me this very rare photo of Mel eating at (what appears to be) an In and Out Burger place. When you are riding late night, you can't always pick and choose where you can eat and Mel's rule against chain restaurants apparently went out the window.  Looks good to me, Mel.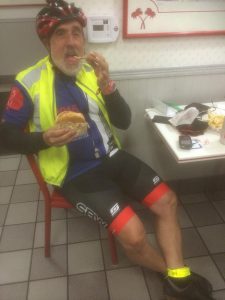 Last week I included a photo from the Thursday Triple Dipper ride which that week had only included male riders.  Just to show that the Triple Dipper ride isn't always a stag ride, here's a shot Phil Whitworth took of Emma Pham and Nancy Domjanovich (two of our regulars) who were back with us last Thursday.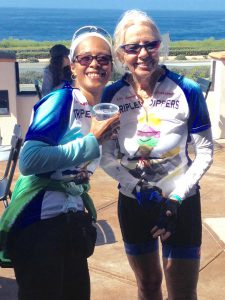 Just a reminder that it is not too late to sign up for the Grand Tour Lite on October 2nd.  So, if you weren't able to make it on its original date, maybe you can make it on its new date.  Information is on the club web site.
See You On The Road
Rod Doty, VP
September 13, 2016
Hello All:
IMPORTANT NOTICE:  The Grand Tour Lite, originally scheduled for this Sunday, has been rescheduled for Sunday, October 2nd.  See below for details.
Last Sunday we were down in Huntington Beach for the "Orange Coast Tour." I think there were 9 of us at the start and we all did the long route, but when I got back to the start, there was late-comer Kit Gray just finishing up the medium route, so I guess we had 10 riders.  We split up according to speed, but most came back together at lunch except for two who went off to find something better than the World's Best Hamburger.  I don't know how you could find something better than the world's best — they wouldn't be exaggerating about their quality, would they?  On the way back we encountered a closed section of Red Hill Blvd. Seems like we usually ignore "Road Closed" signs and attempt to slog our way through such areas. I have walked through mud and climbed fences with that policy. But Sunday, 3 of us decided to obey the signs and follow a posted bike detour sign. Turns out those signs were leading us the wrong direction and we had to make our own way back to the route (thanks to GPS and smart phones).  When we got back I found out that everyone else had ignored the closure signs and had only needed to walk or ride a short stretch of unpaved road. So that's what I get for trying to do the right thing.  Next time I come to a road closed sign, I'm ignoring it.
Earlier in the route we had another ride on the Balboa Ferry and Mel Cutler took this photo of a few of us on board just as we pulled away from the dock.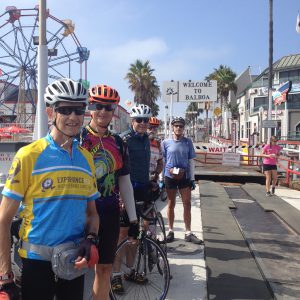 Unfortunately, this is the only photo I have from the day.
Now as to this Sunday.  We were to be riding the Grand Tour Lite — I had sent in my registration last week. But the City of Malibu requested that we postpone our event to avoid a conflict with another event that same day.  Therefore, we have re-scheduled the Grand Tour Life for Sunday, October 2nd (two weeks later).  Those of you who had registered — your registration will still be good.  If you can't make it on October 2nd, I would assume a refund will be forthcoming. If you hadn't registered, but want to ride it on the new date, registration remains open for another week.  See our club web site for details.  Since this e-mail only goes out to our members and many non-members often ride the Grand Tour Lite, please try to get the word out to your non-member friends who were planning on riding the Grand Tour Lite this Sunday or who might want to ride it in October.
Instead of the Grand Tour Lite, this Sunday we will be riding the routes originally scheduled for October 2nd. This is "Turnbull Revisited."  As you might guess, all the routes (except for a flat short route) go over Turnbull Canyon. That is the only major climb for all but the long route. Actually, the long and medium routes are identical except that the long adds a loop up Hwy 39 and East Fork to Williams Camp for a break and then a return back down to rejoin the medium route.  Turnbull is not so difficult and it is virtually the first thing you do on these routes, so you hit it while you are fresh.  I plan to be there and I hope to see many of you out as well.
This Thursday is our monthly club meeting to be held at the home of Frank & Suzie Ferren. I would like to remind everyone that Frank & Suzie have invited everyone to come by early for dinner. We will be celebrating the birthdays of Frank and Kermit. Suzie needs to know how many to plan for, so if you plan to come early for dinner, please RSVP to Suzie at suzferren@nullaol.com
As I usually do before the monthly meeting, I have attached the minutes from the last meeting so that you can review them. We will be approving these minutes at the meeting, so you want to know what you are approving.
I don't have many photos this week, so I'm including one from last week's Triple Dipper Ride. (seems like I'm always including Triple Dipper photos, but that's just because they are the only ones I get. If you send me photos from other rides, I'll include them.)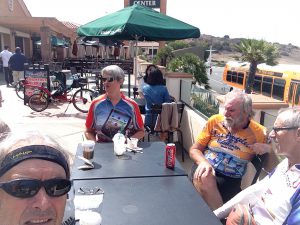 This was a selfie by Phil Whitworth (lower left corner)  It so happened that all the women that normally ride with us on Thursday were elsewhere (one in Chicago, one in Texas and I'm not sure where the other was).  You can see how bereft we were.  I think they'll be back by this Thursday.
See You On The Road
Rod Doty, VP
September 6, 2016
Hello All:
Last Saturday we had a century ride ("Camarillo Century"). I didn't go, but  I had a report from Gary Murphy who said he thought there were 12 on the ride.  The following photo from the start was sent to me by Emma Pham and I count 9 helmets.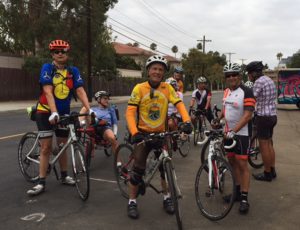 Gary said it was a somewhat disjointed ride.  One rider started early. Others started on time and others waited at the start while Gary fixed a flat.  Sheila Szymanski took a spill in the first few miles and called it a day. (I've heard through the grapevine that a gash on her forehead required 3 stitches.) The rest of the day some of the riders would occasionally catch up with others and then separate again.  There were other flats which added to the disjointed nature of the ride.
But other than that, it sounds like they had a good day.  I had a few other photos that made it look like a good day.  Here is one sent to me by Rick Gordon taken on Old Topanga.
 

I have never seen that sculpture (?) before.
Sunday we were riding to Whittier.  I think we had 7 riders which is pretty good considering that a lot of our regulars had ridden Saturday and didn't show up Sunday. Unfortunately I didn't get any photos.  We all rode the long route.  There was a faster group and the group of 3 I was in, but the faster group kept taking breaks so we would see them every so often when they would pass us again.  We split up into 3 different locations for lunch in Whittier. It was a nice day with cool temperatures for Labor Day weekend. At the end Mel Cutler and I rode over to Fosselman's for ice cream (less than half a mile away), but no one else wanted to go.  I think we should put Fosselman's on the route slip at the end of all of our rides which start in Alhambra.
Next Sunday we head down to Balboa for our last visit of the summer.  We were just there a couple of weeks ago, but this time we take the ferry in the opposite direction.  That changes your entire view of Balboa.  The long rides over to Old Town Irvine for lunch and I always enjoy that.  The ride is fairly flat so why not come on down. It should be a good day in the OC.
Last Thursday, Nancy Domjanovich invited the Triple Dipper riders to her home for ice cream after the regular ride — I think she wanted to use up the last of the ice cream she bought for the ice cream ride a few weeks ago.  Nancy was able to duplicate the triple dip cone on the Triple Dipper jersey: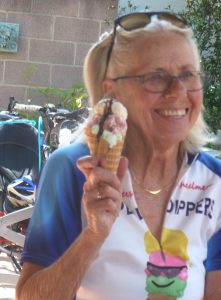 Finally, here is a photo I took today.  I've seen these before and every time I see one I always think it is amazing how brazen the body snatchers have gotten.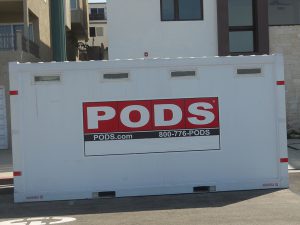 See you on the road,
Rod Doty, VP