VP Newsletter
By Rod Doty, VP
Select a tab below to view the newsletter indicated.
November 29, 2016
Hello All:
Thanksgiving: Last Thursday we had our annual Thanksgiving Day Ride. I can't remember how many riders we had, but it was about a dozen. One rode the short route and the rest of us stuck together for a combination of the long and medium routes.  We made our usual stop at the overlook in the Palisades. I mentioned last week that the live turkeys would probably not be there as usual because last year the homeowners had said they were moving. But, apparently they have been unable to sell their house and they, and the turkeys, were still there.  Here is a shot from Gary Muphy

We all posed for a group shot on the bluff, and I remember several people taking photos, but I got none of them.  Phil Whitworth did send me a few photos, but none were the posed group shot. At least I don't think this is a posed shot of the group.
But at least you can see what a nice day it was.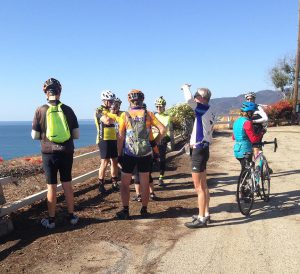 After the bluff, we went down to the Marina for a leisurely break before taking our separate ways home.
Sunday: On Sunday the scheduled ride was "Flintridge Express." There was talk of scattered showers.  I had been caught in the rain twice in the last month and decided I wasn't up for a third time, so I didn't go.  It turns out, hardly anyone else did either.  But I did come across this photo posted by Lynn Katano on Facebook.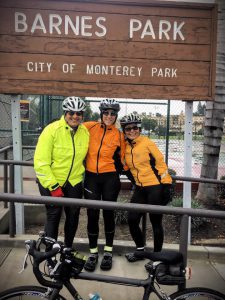 From left to right, that's Jackie Royer, Rosanne Giorgio and Lynn Katano.  Lynn's caption for the photo was "LA Wheemen ride with Jackie and Rosanne starting from my hood [Lynn lives in Monterey Park] — too bad none of the LA Wheelmen showed up?  (Glad we all had our Showers Pass jackets!)"
So, it sounds like they did encounter a little rain. Maybe the rest of us were right in not showing up.
Actually, I had never heard of Showers Pass Jackets. (I have since looked at them on the internet). But the comments to Lynn's post sound like a Showers Pass commercial. They must be pretty good.
Next Week:  This Sunday we will be starting at the Zoo for "Bobbi's Birthday Beach Bash"  This is a set of routes put together by former club president Bobbi Fisher which we have ridden every time her birthday falls on a Sunday (about every 6 years).  The basic concept of the ride was to ride the entire length of Ventura Blvd. It's not as bad as it may sound — particularly on a Sunday morning. It's interesting to see all the businesses along this major Valley thoroughfare.  All three routes ride Ventura Blvd. The short simply returns back to the start while the medium and long continue on up to Topanga Village. The long continues to the beach and returns back through Santa Monica and over Sepulveda while the medium returns back through the Valley. Right now, it sounds like the weather will be better than last Sunday, so I hope to be there.
Beach Bike Path: For those who ride the beach bike path, you know that last winter or spring waves wiped out a portion of the path and since that time we have been riding a detour on the service road. Well, they have completed repairs and the full bike path has re-opened.  They actually re-routed the path slightly to miss a low spot on the beach where high waves had often swamped the path even before they wiped the path out.  This should fix the problem at least in the short term. If the ocean keeps rising, the waves will be hitting the path again in the future.
Meeting: I have had no takers to provide refreshments at the December 15th meeting.  I would hate to see all the attendees go hungry.  Nuff said.
Correction: A few weeks ago, I showed a campaign lawn sign for a politician named Newman.  I mentioned that he had lost the election. Apparently once the final count was completed, he actually did win.  So maybe the "Hello, Newman" catch phrase worked after all.
See You On The Road
Rod Doty, VP
November 22, 2016
Last Sunday:  On Sunday we started in Fullerton for our ride out to Corona and back. The threat of rain seems to have limited the number of riders. There were only 4 of us willing to take the risk:  Sheila Szymanski, Jacques Stern, Gary Murphy and me. I believe we all rode the long route, but after the first few miles, Sheila took off and we didn't see her again. Her car was gone when we finished so I would assume she completed the ride.  I don't know about Sheila, but the three of us managed to ride the entire 70 miles without really getting rained on. I felt a drop here and there, but no more.  However, it did rain a little while we were at lunch. The timing was perfect because it stopped by the time we left lunch. It wasn't much rain, but the roads were wet for the trip through Carbon Canyon.  Here is a photo Gary took before the roads became wet.  You can see it was a fairly nice day.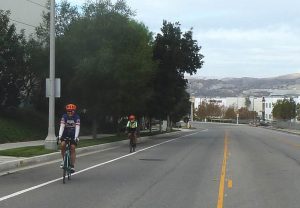 But the wet roads were the only negative aspect of the day.  A few years ago on this route, I remember reporting that this route had the worst road I have ever ridden. I think it rattled the computer right off my bike. I'm happy to report that this road has been recently repaved and several other roads on the route have been improved. The bad roads were mostly in the area of Chino where there were a lot of dairy farms. I think the heavy trucks and farm equipment tore up the roads.  But most of the dairies are gone and are being replaced by houses.  Kind of sad, but at least the roads are better.  There are one or two dairies left. Gary took a photo of one: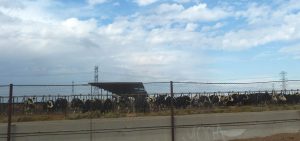 This Week:  We have rides on two days this week.  First up is our traditional ride on Thanksgiving Day (which I think will one day be known as "Black Friday Eve"). These routes start from the Corner and head down to the Marina for a break.  The long and medium also take a trip to the Palisades.  For several years one of the homes in the Palisades always had a couple of live turkeys in their yard. But it seems to me they told us last year that it was the last year the turkeys would be there.  I'm not sure about that, but I guess we'll see. The Thanksgiving ride is always pleasant and short enough to get you home in plenty of time for other holiday activities.
On Sunday we will be starting in Monterey Park for "Flintridge Express." The long route is notoriously hilly, but the medium and short are not so bad. In any case, a hard ride might be just the thing after a couple of days of over-eating.  A good ride can work off a lot of stuffing.  I plan to be at both rides this week. I hope to see a lot of you there.
December Meeting:  We couldn't find a host for the December meeting coming up on December 15th, so we will once again be meeting at the Culver City Veteran's Memorial building which we have used a few times in the past.  That provides us a place, but we still need someone to provide refreshments.  It would be nice if someone new would step up to do this.  Given the timing, maybe just some holiday cookies would be fine.  If you would like to volunteer for this, contact me.
The New Year:  2017 is still a month away, but it's never too early to start thinking about your cycling hopes and plans for the new year.  I would like to suggest that you think about participating in the club's Century Challenge. Last year we added metric centuries (any ride of 60 – 90 miles) to the challenge which makes this accessible to many riders who feel a full century is too much for them.  In 2017 we plan to further help metric century participants by offering a "metric century of the month" the way have been offering a century of the month for several years. Generally, this will be offered the same day as the century of the month (usually a Saturday) and will be a shortened version of the full century. It might not be possible to do this with every century, but we will try. We already have January and February set.  So why not resolve to ride at least one metric or full century a month for the new year. It's a nice way to make sure you stay in shape the whole year and keep on riding.
Gobble, Gobble and
I'll See You On The Road
Rod Doty, VP
November 15, 2016
Hello All
I've got a lot of photos today, so let's dive in.
Last Saturday: On Saturday we had our November century of the month — East Road, West Road, All Around Downtown. We had an excellent turnout for one of our centuries.  I started early, but was told there were 10 others at the start:  Gary Murphy, Jacques Stern, Phil Whitworth, Emma Pham, Terry Neff, Mel Cutler, Robert Wyman, Hoy Quan, Mike Wapner and a visitor whose name I did not get. Add to that Sheila Szymanski who started early with me and that makes 12 riders. Here is a photo (from Phil Whitworth) of most of the group at the start: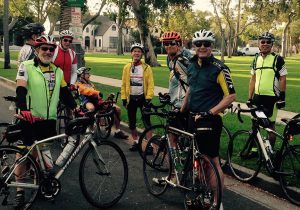 Unfortunately, the ride was marred when Hoy went down in a solo crash. I've heard from him today. He says he took the brunt of the crash on his face and suffered several facial fractures and contusions. He declined to send a photo because, as he said, "Halloween is over." But he is on the mend and  sounds upbeat. Get well soon Hoy!
After that rough start, the ride went well. It was a beautiful day for a century. Here's a photo from Gary taken of Emma as she crested the top of Fullerton Road (I think that is where it is).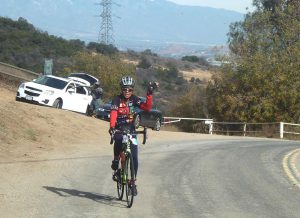 You can see that it was a fairly clear day.  Due to the accident, the group never caught up to me.  I was suspicious that something had gone wrong since there is no way I could have stayed in front of the group otherwise. I was hoping it was only some flat tires. But it gave me the chance to ride the entire century on my own and sometimes it is pleasant to just ride alone and get into your own head.  I enjoyed the day.
Sunday: Sunday the scheduled ride was to the Hollywood Sign. Again we had an excellent turnout. I think there were a total of 15 riders if you count Rick Gordon who apparently started late and we saw riding up about a mile from the top as we were coming down. I believe all but two of the riders made it to the top (assuming Rick finished the climb) and I know one of those never intended to go up to the top.  I think 4 or 5 of the riders continued on to do the long route. The rest of us just headed back down to the start. Here's a photo (from Phil Whitworth) of most of the group at the start: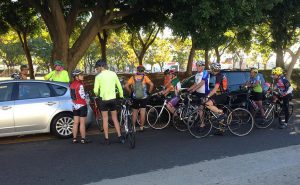 Here's a photo from Gary Murphy of some of the group at the top: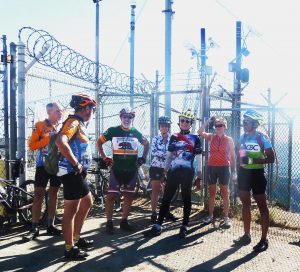 They all look happy. I'm the one turned away from the camera. I'm pretty sure I didn't look that happy.  It was a very hard climb for me the day after doing a century.  Here's an interesting little fact: Two of the riders who rode to the top had previously suffered a heart attack. It's a tribute how good recovery can be. The view up there was great. Here's a shot from Dave Wyman showing part of it.  That's Gary Murphy and Bill Faullkner struggling up the last 100 feet of the climb.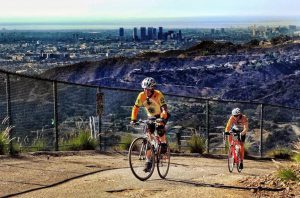 I used another good photo on the cover of the Schedule going out this week.
Next Sunday: This Sunday we will be riding "North Orange County Trek" which starts in Fullerton, but spends a lot of the day in Riverside County. This ride used to be known for the ride through the dairy farms in Corona and the unpleasant odors (although it was like home to me) and very rough roads of that area. But the times are changing and most of the cows are gone and as new houses spring up, the roads get improved. So come out and say goodby to the last of the cows. I don't know where our milk will produced in the future, but it doesn't look like it will be in Corona. 
Campaign Signs Last week I mentioned a campaign poster I thought was funny.  Last Saturday I saw another one (still up 4 days after the election). Phil Whitworth thought it was funny too and took a photo: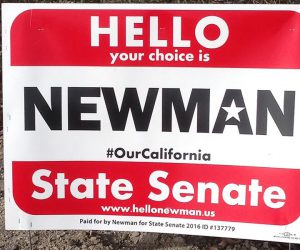 I think he is playing on the phrase "Hello, Newman" from the old Seinfield show, although since Newman wasn't a very sympathetic character on that show, I'm not sure if this is good campaign strategy.  I just checked and he lost to Ling Ling Chang. Probably why his signs are still up — he doesn't give a damn.
Super Moon I've shown photos of this before but when we have one of those super moons the news talks about, we also have super high tides and sometimes they actually lap over the Ballona Creek Bike path where it passes under Lincoln. Today Gary Murphy sent the following photo of this phenomenon: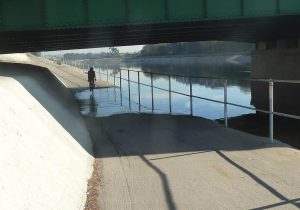 If the oceans keep rising, this could be an everyday sort of thing.  But global warming is a hoax.
Minutes:  We have a club meeting this week.  Attached are are the minutes from the last meeting. They were prepared by our alternate Secretary Susie Ferren, since our usual Secretary was out of town.  Nominations for club officers open at this Thursday's meeting.  Why not show up and take part in running your club.
See You On The Road
Rod Doty, VP
November 8, 2016
Hello All:
Last Sunday:  Last Sunday we were out in Redlands for the ride up to Oak Glen.  Only 6 riders showed up.  We don't usually get a very big crowd for this one, but we have had more than that in the past (and fewer too).  The riders were Terry Neff, Phil Whitworth, Sheila Szymanski, Russ Brynes, Steve Benoff and me.  Unfortunately I didn't take any photos of the group.  Steve, who lives in Beaumont, was only planning on riding back to Beaumont and not continuing up to Oak Glen. The rest of us decided to do the Alternative Long, but when we came to the split with the full long, Phil decided to take off and do that instead.  We later saw him on the downhill returning back from Oak Glen.  It was a really nice day for riding up to Oak Glen. That's why I like to ride this one in the fall. We often get great fall weather.  But there is a downside to riding in the fall — lots of people head up to Oak Glen for the various harvest activities and apple picking.  In fact, when we got there, the line at Apple Annie's was so long we decided not to eat there and simply continued down the hill to eat in Yucaipa.  So no apple pie for us. I usually alternate riding this one in the fall and spring so next time we will probably ride it in the spring. No crowds then, but the weather is often not as nice.
I didn't take any photos of the group, but on the way to Beaumont I took the photo below.  This was in Riverside County and I figure they don't have the money for real K-rails, so they use this poor-man's version of K-rails.   Terry dubbed them "Hay-rails."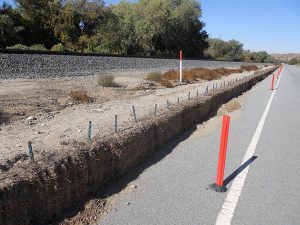 Next Weekend:  This Saturday we have our Century of the Month for November.  It's "East Road, West Road, All Around Downtown (clockwise)"  This one starts in Culver City and makes a large clockwise circle.  We start by heading downtown and then on to Alhambra and Industry before climbing Brea Canyon Cutoff and Fullerton Road.  This takes us to the title East Road and West Road before we stop for lunch.  The return is fairly flat using a stretch of river trail and a long stretch on Del Amo Blvd.  It's a fairly fast century despite the city riding.  I hope to be there.
On Sunday we are riding up to the Hollywood sign from the Corner.  There are only two routes.  The medium simply goes up to the sign and returns for a total of only 20 miles.  The long tacks on a circle taking you out to the Valley and back.  I hope to be there, but if I do the century on Saturday, I'll probably just opt for the 20 mile route.  It's short, but part of the trip up to the sign is very steep.  That will be plenty for me.
I'm not going to comment on the election.  But last Sunday I saw a campaign sign out in the Yucaipa area that I thought was moderately amusing.  Someone running for the Water District Board was using this slogan on his posters: "Make Water Great Again."  I wish I had stopped to take a photo of it.
I've got nothing else to report tonight.
See You On The Road,
Rod Doty, VP
Archives
Select the VP Newsletter Report indicated from the documents below…