VP Newsletter
By Rod Doty, VP
Select a tab below to view the newsletter indicated.
October 18, 2016
Hello All:
Last Sunday: Last Sunday we made the trip up to Mount Wilson. I think there were 15 riders at the Rose Bowl to start the ride, but we picked up 3 more along the way for a total of 18. I think all but two made the trip all the way to the top of Wilson. That's pretty impressive. It just strengthens my belief that the harder the ride, the more people seem to come out.  People like a challenge I guess.  Phil Whitworth took this photo of most of the riders at the start: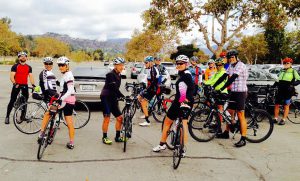 It was just about a perfect day for the climb. It was partly cloudy on the way up and that kept the climbing cool. Unfortunately, we climbed up to that cloud level and the last few miles to the top were in a fog that made the riding maybe a bit too cool. One of the few times I've stopped to put a jacket on while still climbing.  But there was good news for me at the top.  I had been given to understand that because of a water shortage, the Cosmic Cafe couldn't offer any cooked food.  But when I got there, they were still offering hot dogs.  I guess maybe heating a hot dog in the microwave doesn't count as cooking. Or maybe they just figured the health department was unlikely to drive up to Wilson on a Sunday just to bust them for a health violation. Anyway, that hotdog sure hit the spot and warmed me up a bit for the coming cold downhill.  The downhill wasn't as bad as I feared. Once I got below Red Box, it warmed up and the rest of the trip was fun.  It took me about 5 hours of riding to get up to Wilson, but I got back down in just a little over one. It was a warm sunny day at the Rose Bowl. It was hard to believe that only an hour earlier I had been so cold.
I don't have any other photos this week, so I dug out this one I took of Pam Leven when we did this ride 3 years ago.  Happier times.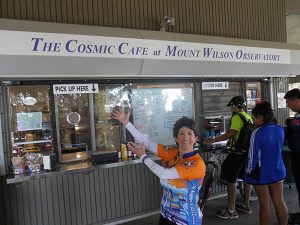 This Sunday: This Sunday we will be starting down in Tustin for "Revel The Rollies II."  These routes (long & medium) are most noted for the trip past Cook's Corner and the trip through Santiago Canyon.  The long adds a trip through Live Oak Canyon which is rather nice.  There is a bunch of climbing, but nothing like going up to Wilson, so why not come out.  We can't have a super challenging ride every week.  I plan to be there.
In Memoriam: Although I don't think there are too many current members who remember her, I attended the funeral of Bernice Dreyfus last Saturday.  She was a few months short of 92. She and her husband Jack (who passed away a few years ago) were regular riders almost every Sunday for many years. They were both fun and interesting riding companions. Bernice led a very active life of many interests. As an artist, she explored many different art forms. Late in life she became a real estate agent. Although she suffered an accident a number of years ago which left her confined to a wheelchair, it hardly slowed her down.  She will be missed.
Cubs: Well, the Cubs are down 2 games to 1 in a best of 7.  I'm still optimistic, but if they happen to lose this round of the playoffs, don't talk to me if you see me on the ride Sunday. I won't be in the mood.
See You On the Road (but I might not be in the mood to talk to you)
Rod Doty, VP
October 11, 2016
Hello All:
Last Weekend:  Last Saturday we had our century of the month for October. I went over to the start, but then did my own shorter ride (I already rode an October century on the Grand Tour Lite). There were only 5 riders.  I took this photo: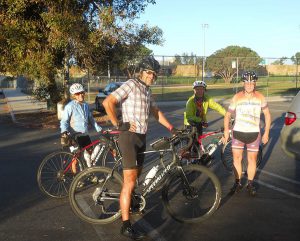 From left to right that's Sheila Szymanski, Thomas Knoll, Gary Murphy and David Williams. The fifth rider showed up right after I took the photo, but he was a newcomer and I didn't catch his name.
Gary reported that they had a good day. Despite the predicted heat, he said it wasn't bad.  Here is a photo he sent me from up along Mulholland Drive.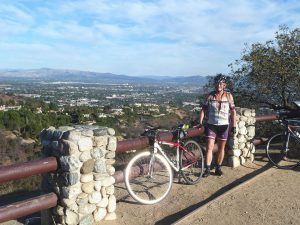 You can see what a clear day it was.
On Sunday we were riding from the Corner.  My computer hard drive had died and i thought I could better spend my day getting it back up and running (otherwise I might not have been able to send you this), but I did ride over to the Corner to see who else showed.  There were only four.
I took this shot:
I don't think any of them did the planned routes. When I left, they were talking about just riding over to the coast.  
This Weekend: This Sunday we will be riding a favorite ride of mine — Mount Wilson.  As you might guess, the long route rides up to the top of Wilson and back.  It's only 48 miles and half of that is downhill, so despite the fact that you climb a bit more than 5000 feet, if you go slow, you can do it.  There is an extended long for those who want more and of course the medium is a shorter version which only goes up as far as Clear Creek Station.  If you have never been up to Wilson, it really is something you should consider.  You can see what I call the "antenna forest" It always amazes me how much electronic equipment is packed onto that peak.   
NOTE: Due to the drought, water has been turned off up at Wilson.  However, I believe they have brought in portable toilets at the top. The Cosmic Cafe remains open, but they cannot serve cooked food.  They will have bottled water and pre-packaged snacks and food.  But you might want to consider carrying your own snacks. From the report I read, it was unclear whether water has been also turned off at Red Box and Clear Creek.
Triple Dipper Ride: I have another photo, submitted by Phil Whitworth, from last week's Thursday Triple Dipper ride.  This was taken in front of the cyclist mural painted on the wall at Golden Cove in Palos Verdes.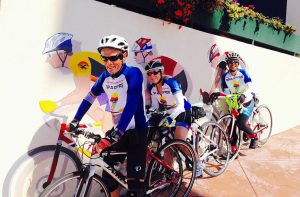 Cubs: Finally, many of you know I'm a Cubs fan, so I just want to say "Yeah Cubs"  — they won the first round of the playoffs tonight.
They made it this far last year, so now the question is: Can they finally get to the World Series?  They haven't done that since 1945.
See You On The Road
Rod Doty, VP
October 4, 2016
Hello All:
Last Weekend:  Sunday was the rescheduled Grand Tour Lite.  I don't know it was due to the last minute switch of dates, but participation was very disappointing. I'm not sure exactly how many riders there were, but I think it was 22 or 24.  It's a shame too, because the weather could not have been better.  After the heat last week, it was just right — not so cool in the morning that I needed a jacket, but not so warm in the afternoon that I was sweating going up Zuma Hill. And those wonderful tailwinds coming back down the coast (that didn't materialize for me on the Grand Tour in June) were blowing very nicely all the way back on Sunday.
I rode the full century, but I rode my own pace and spent most of the day alone. I did, from time to time, run into a group of about 6 or 7 who I think were the bulk of the other riders doing the full century.  That group included Phil Whitman who sent me this photo of most of the group as they came back down the coast to the finish.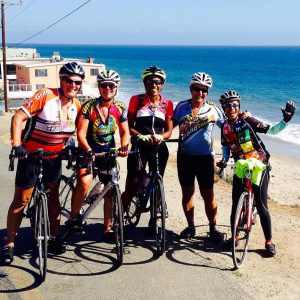 Phil is in the photo, so I'm not sure who took it.  I think a few riders did the double metric and the rest did the metric century.  Dennis Miller had agreed to sweep the metric century on his bike. He posted this photo on Facebook of the group he was following when they stopped for a flat tire.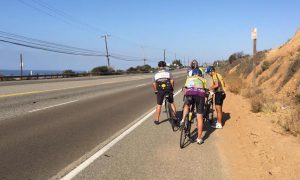 After reaching the first reststop, Dennis left his metric century charges to go sweep the century loop but by then I think everyone was well ahead of him. So he completed that loop and then rode back down the coast by himself, stopping a few times to take photos.  Here is one he took approaching Mugu Rock.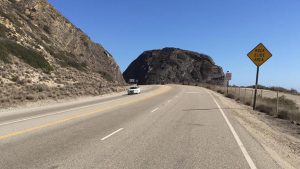 I always look forward to seeing that rock when I'm coming back down the coast because it's when you get past the rock that you usually pick up the tailwind all the way back. 
This Week: This Saturday we have another century (it was scheduled before the Grand Tour Lite got moved to October).  This one is "Circling San Fernando."  It starts in West LA and heads up Sepulveda, along Mulholland to the East and down into Griffith Park. From there it makes a large counter-clockwise circle around the San Fernando before heading out Mulholland Hwy and crossing to the coast through Malibu Canyon and taking PCH back through Santa Monica to finish the loop.  There is a fair amount of elevation gain, but the largest single climb is Sepulveda, and that's not so bad.  Since I rode the century last Sunday, I'm not sure I'll be there for this one, but I'm thinking about it.
On Sunday we start from the Corner for an oldie: Corner Caper – Phase II.  Both the long and medium head out to Valley via Benedict Canyon and make a loop to the East. The long adds an extra loop up to Pasadena and back down, but then rejoins the medium route for the return.  The short stays on this side of the mountains.  If I don't ride Saturday, I will for sure be at the ride Sunday.
Photo Analysis:  Take a second look at that first photo above.  There are a couple of things I notice.  First, it seems that Phil (that sly dog) managed to ride with a group of all women.  I'll let that pass.  The other thing I notice is that 3 of the riders are wearing Grand Tour Jerseys each from a different year.  I was wearing a Grand Tour Jersey that day from a 4th year.  It might be interesting to get a group photo some time with as many different Grand Tour Jerseys as we can.
Thank You: Finally, I would like to thank all the staff who supported the Grand Tour Lite on Sunday. With the small rider turnout, I think there was  at least one staff member for every two riders.  How many rides can claim that?  Perhaps I'll get a list of the staff to publish here another week.
See You On The Road
Rod Doty, VP
September 27, 2016
Hello All:
Last Week  Last Sunday, the scheduled ride was to takes us out to Cal Poly Pomona, but it was predicted to be very hot out there and I had enough of that the prior week. I don't know if anyone actually showed up for the ride.  I haven't heard from anyone. I do know that two different groups that often show up for our Sunday rides each independently decided to show up in Marina del Rey for an alternative ride near the ocean. I joined one of these groups for a short ride down to Palos Verdes and back.  I stopped at Golden Cove while the rest went on to San Pedro. Well, it's a shame we couldn't get the scheduled ride in because I like those particular routes. I think I might schedule it again soon rather than waiting the usual year and a half for it to come due again.  I've already scheduled through December, but January is open, so look for it to pop up again then.
This Week  This Sunday is our re-scheduled Grand Tour Lite. It is supposed to be much cooler then and these routes (except the double metric) spend most of the day near the coast.  It should be a nice day for a century. Pre-registration is closed now, but you can always show up the morning of the ride and register late.  As club members, you get a $5 discount so it's a bargain even with a late fee. Full information is on the club web site.  I plan to be there and riding the standard century but if I'm not feeling it that morning, I suppose I could always skip the loop in Oxnard and settle for the metric century.  I hope to see a lot of you out for the ride.
Tom Estabrook  Member Tom Estabrook passed away a couple of months ago, but his memorial service was held just this past Friday at the veteran's cemetery out in Riverside. A few of our club members attended. The following day, the Foothill Cycle Club, which Tom rode with much of the last few years, held a memorial ride for him in the Pasadena area. I and a few other club members attended this ride.  
Tom was a long time member.  I would guess he must have joined in the 1960s or early 70s. He was one of the first members I met when I joined the club. As I recall, he led AYH qualifying rides and I had done a couple of those. He was known for loving to climb. Often on club rides he would suggest a deviation from the route and I learned to beware of his "little side trips" because they always seemed to involve doing some hill I hadn't planned on. Only a few years ago (when he was probably in his late 80s) I ran into him up at Chantry Flats.  He mentioned that he was still riding up Chantry once a week.  He was an amazing rider and always in an upbeat mood.  I believe he continued to ride right up until the end. In fact, I think I was told he was getting ready to ride when he passed away suddenly.   He was 93.
 A few years ago Chris Hedberg organized a 90th birthday party for Tom.  I took the following photo of him at that party.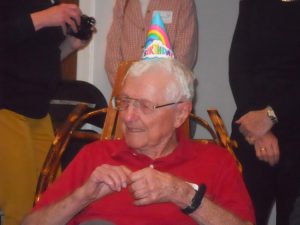 Extra Photo  Since no one rode the regular ride last Sunday, I don't have any photos. Gary Murphy sent me one from the alternative ride down to Palos Verdes. I hesitate to include it here since it wasn't really a club event and the two riders in the shot were in a photo I included only last week and I don't want them getting a swelled head.  But I've got nothing else, so here it is.  That looks like Catalina in the background so it must have been fairly clear.  It looks like they were on the climb that goes up past Trump Golf Course — I recognize that fence.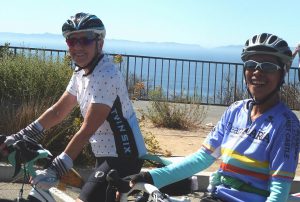 Well, nothing else to report this week, so I'll let you go.
See You On The Road
Rod Doty, VP
Archives
Select the VP Newsletter Report indicated from the documents below…