VP Newsletter
By Rod Doty, VP
Select a tab below to view the newsletter indicated.
March 21, 2017
Last Sunday: Sunday we started from Long Beach and rode down to Huntington Beach and back. We had a whopping 18 riders (after Mel Cutler, who rode from home, joined us). I know someone took a photo of the group at the start, but I didn't get it.  I'm not sure I would have been able to name all 16 or 17 people anyway and I'm not going to try and remember all the names now.  Gary Murphy sent me a few photos from out on the road. Here is one: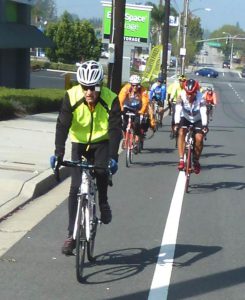 I'm not sure where this was taken — somewhere in Orange County I guess.  Except for a faster group of 5 or 6 riders, we all stayed together until lunch. At lunch the long and medium routes split.  I'm not sure what the faster group did.  The slower group split between the long and medium routes. Those of us who did the long agreed that the nicest part of the ride was the trip around the Back Bay in Newport. We made the entire circle which I think is 7 miles around and basically all on a bike path. Then there was the 15 mile run back on PCH.  The nice weather really brought out the people in Huntington Beach. The pier looked like it was crowded with people.  Unlike the problem plagued ride the previous Sunday, I think everyone had a good day.
Next Sunday:  This Sunday is our annual Fargo Street Hill Climb event. For 40 or 50 years now the club gathers once a year at Fargo Street in Silverlake to see who can climb up this hill. I don't know if it's because bikes are better or people are stronger or what — but these days, not only do some come to see if they can make it to the top, but others come to see how many times they can make it to the top.  Either way, a lot of us (including me) show up just to watch the others try.  We have a nice way to get over to view the climbing.  We have two routes (a medium and short) which start from the Corner and go to Fargo and back. The longer route adds a few miles to go downtown to Philippe's for lunch. If you have never been to Philippe's before, that's almost worth the ride alone.  They claim to have invented the French Dip sandwich. I take such claims with a grain of salt.
Cayman Island Visitor: Our visitor from the Cayman Islands (Chris Bailey) joined us on our Thursday Triple Dipper Ride last week before he returned home. It so happened that it was his wife's birthday, but she was in the Caymans. So he FaceTimed her on his iPhone and when she answered we all launched into "Happy Birthday" to her.  She must have been very surprised.  Here is a photo (from Phil Whitworth) of the event.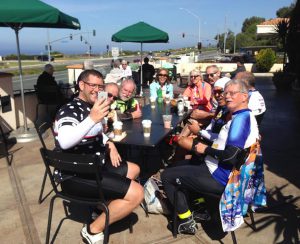 He only rode two rides with us, but Chris was very taken with the club and joined on the spot.  He might come back for a vacation. You can imagine he gets tired of riding the Cayman Islands all the time.
Injury Update:  I mentioned last week that Jacques Stern had taken a fall on the century ride. He hasn't gotten back on the bike yet, but he joined us in Palos Verdes for our break last Thursday and is looking pretty good.  He was sporting a large bruised area on one cheek, but frankly, after the fall he took, I thought he would look worse.  Here's a shot (also from Phil).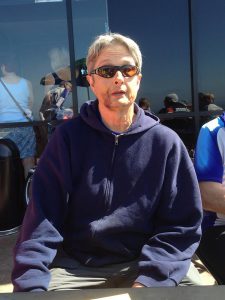 Minutes:  I have been waiting until right before the next meeting before publishing the minutes of the last meeting, but then sometimes I would forget. So now I'm going to try and publish them as soon as I get them from our Secretary.  So, the minutes from last Thursday's club meeting are attached as a pdf file. Happy reading.
Grand Tour Staff:  At the meeting, Ira Kucheck mentioned that he still needs staff to fill out all the locations for the Grand Tour on June 24th. If you, your family or friends are available and would like to take part in this great event, please click on this link for more info and to sign up –  GT 2017 Staff   If you have any questions about volunteering please e-mail or call Ira – ikucheck@nullgmail.com or 949.759.2975
RAAM Crew:  We have a couple of members who are planning to ride RAAM this year, but have had one of their crew members drop out. They are therefore looking for someone to join their crew. If you are interested, you can contact Axis Espinosa at 704-912-7260 or e-mail axisrn13@nullgmail.com
Closing Thoughts. Both my alma maters, USC and Duke, dropped out of the NCAA tournament last Sunday so I've lost interest in that. But hey — Cub's opening day is only a little more than two week away!!!
See You On The Road
Rod Doty VP
March 14, 2017
Hello All and Happy Pi Day.
Last Sunday:  Sunday we were riding our century of the month which was the "Whale of a Century" taking us from Camarillo to Santa Barbara and back. The weatherman said it was going to be a great day with temps in the 80s. Unfortunately, that was everywhere but the coast and this ride spent about 80 percent of the time at the coast. For us it was cool and foggy almost all day. There were 13 of us at the start for the century and I was told there were a couple of riders doing the metric century which started at a different location.  Terry Neff took this photo of the group: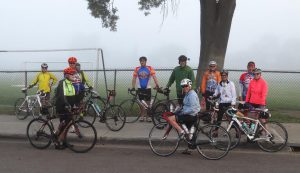 From left to right: Phil Whitworth, Rod Doty, Jacques Stern, David Nakai (barely visible), Chris (a guest from the Cayman Islands), Thomas Knoll, Sheila Szymanski, Bill Faulkner, Emma Pham, Dennis Miller and, Nancy Domjanovich. Missing are Terry (taking the photo) and Rick Gordon who showed up late.  You can see how foggy it was. I don't think you could see much further than 100 yards.
Those of you who are on the Yahoo Group probably already know how things sort of went wrong on the ride. In hind sight, perhaps it was a bad omen when the first flat occurred only a few miles into the ride. It was our Cayman Islander.  Phil Whitworth took this photo while it was being repaired.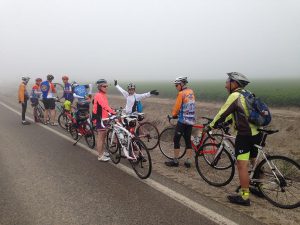 Obviously, still  very foggy.  The group (except for 2 faster riders who rode on ahead) stayed together to Santa Barbara and I was thinking it was going to be a nice ride. But then there was a 2nd flat which split the group. Consequently, we never had a group shot up at the whale.  Here's a selfie Dennis took and posted on Facebook.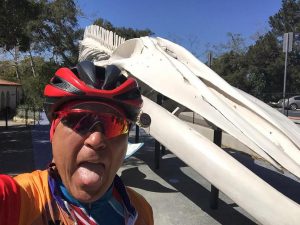 After viewing the whale, while at lunch, several of us learned that Jacques had taken a fall and was in the ER.  Fortunately, although he did suffer a concussion and a few other injuries, I believe he is going to be fine. He seemed fairly chipper when I saw him at the end of the ride, but then the pain probably hadn't really set in yet. The accident further split the group with those who were with Jacques at the accident delayed even more. So what once started out as a nice group staying together ended up dribbling into the finish. To add to the problems, Nancy also took a spill (some abrasions) and the late finishing group had 3 or 4 more flats on the return.  We arranged to pick up Jacques at the Hospital and get him and his bike back home since the doctors did not want him to drive.  With the beginning of Day Light Saving, I had thought we had plenty of time for the century, but in the end, the last riders in came in just as the last glow in the west was disappearing.
So, it was something of a busted day.  I don't know what to say when a day goes off the rails like that. I guess just hope the next ride goes better.
On the plus side, 11 members got a century in.  I only see 5 of them listed on the Century Challenge web page, so 6 of you should still submit them.
Next Sunday: This Sunday we will be riding "Huntington Beach Go-Round" which starts in Long Beach and heads down to Huntington. The long goes all the way down to Newport for a trip around the Back Bay.  These are among the flattest routes we have, so it should be a pleasant day. Let's see if we can't put last Sunday behind us and have a good ride.
Meeting Host:  I was putting together the schedule for May earlier this evening and I realized we don't have a meeting host for May. The date would Thursday, May 18th. It sure would be nice if someone new were to step forward and offer to host a meeting. They are rarely attended by more than 15 people (often less) so you don't need a lot of space. I'm sure the reason we have a hard time getting hosts is that we keep relying on the same members over and over and they are just tired of it. We could really use some help to take the pressure off those who host over and over.  If you would like to host the May meeting, e-mail me or any other officer. We will be very grateful.
Triple Dipper Photo:  I got some photos from Lora Chen taken on last week's Triple Dipper ride. I don't think she has ever submitted a photo before and I like to encourage that kind of behavior, so here is a nice shot of Terry Neff on his recumbent. It was taken in Palos Verdes.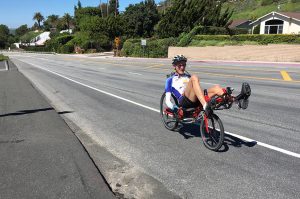 Closing Remark: Our guest last Sunday from the Cayman Islands was an interesting fellow. The Cayman Islands are so small, he said they have to ride several times around the entire island to get in a century. The Islands are also very flat and I wondered how he would do on the hills, but he was fine. He works for Price Waterhouse Coopers and even in the Cayman Islands he said they took a lot of ribbing over the Oscars fiasco. Something I didn't know — he said there is a competition within PriceWaterhouse to see who gets to go to the Oscars. I always thought it was someone from the LA office, but apparently not. He is here for a few more days and I think he plans on joining our Triple Dipper ride this Thursday.
See You On The Road
Rod Doty, VP
March 7, 2017
Hello All
Sunday: Last Sunday was of course our annual installation lunch. There was a ride from the "Corner" to the lunch which was attended by 6 or 7 riders. I know David Nakai was disappointed in the turn-out. But there was rain threatened — in fact I think the riders did get a light sprinkle.  I live within walking distance of the lunch venue and wanted to go over to help set up, so that's my excuse.  Anyway, Sandy Weiner took this photo of the group as they passed the "Witch House" in Beverly Hills.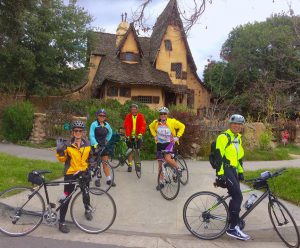 The lunch itself was better attended.  I wished more had attended, but I think it actually went up from last year. Here is a shot from Sandy of the assembled group: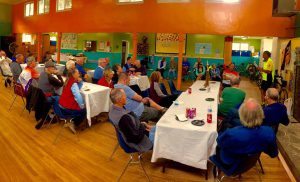 After a great lunch, the day's program began. David Nakai was our master of ceremonies.  He opened with a parody version of "City of Stars" from La La Land.  He actually sang. All I'll say about that is that he is braver than I would be.  Here are his lyrics.  Below them I've included a link to a YouTube video of the actual song (with lyrics) so that you can see how it was supposed to sound.
City of cars
Are they honking just for me?
'Cause I'm going far
Jealous that I'm traveling gas free
Who knows?
If everyone who's sitting in traffic all rode
With less cars on the street
I'd then be driving these roads
Well perhaps that's not
What I really want
Ain't it bizarre
Just one thing we all desire
It's not very hard
To get out on a bike with well inflated tires
A climb
Yeah all we're looking for is a climb from
This bike club.
Fargo
Turnbull
Latigo
Portrero
The look in everyone's eyes
Heading up toward the sky
To open your shirt as heads are reeling
A voice that says, I'll get there
With all my might
I don't care if I know
Just where I will go
'Cause all that I need is this crazy feeling
The club will be right there
Think I want to stay
City of cars
They're still honking at me
I won't despair
Got this club to keep me company
https://www.youtube.com/watch?v=QZLT9LmbhPQ
David then proceeded to the installation of officers. He had a short poem for each of the officers to read.  Mel Cutler wasn't there, so David filled in for him :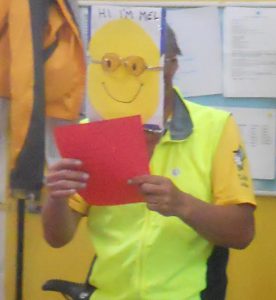 The winners of the Century Challenge were announced and a special award for persistence was given to Renee Sands for riding at least one century each month for well over 100 months now.
Finally, the recipient of  the Jack Flynn Award for service to the club was announced.  This year's recipient was Dennis Miller.  Congratulations Dennis.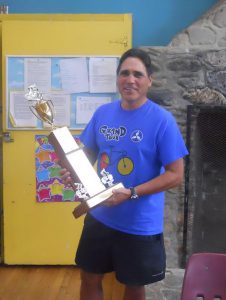 All in all it was a good day and the sun had come out for those who had to ride home (or walk home in my case)
Next Sunday:  Next Sunday we will be riding our centuries (full and metric) of the month for March.  The century is the "Whale of a Century" created by none other than our Jack Flynn recipient, Dennis Miller.  The full route starts in Camarillo and heads to Santa Barbara to view the huge whale skeleton at the Natural History Museum and then returns. The metric is the same except that it starts in Ventura cutting off some of the miles at the beginning and end of the full century, but keeping the middle, which is the best part.  Neither route is difficult and they use a lot of bike paths or low traffic roads.  I plan to be there and hope to see many of you as well.  Note that there are two different start locations and two different start times.  Also remember: Day Light Saving starts this Sunday.
Selfie-a-day:  For a few years now, member Kit Gray has taken a selfie each day. He says he tries to match his expression to his mood that day.  Most are taken at his home, but some are away from home.  At the end of the year, he combines them into a short film set to music.  Below are two links on YouTube to his videos for 2016.   I think you will find them interesting.
Recommendation:  I saw "Finding Neverland" last week at the Pantages.  I was very impressed with how well it was staged.  Very nicely done.  It closes this Sunday, but if you are into that sort of thing, you might want to catch it.
I had more photos this week, but I think I'll hold them for later.
See You On The Road
Rod Doty, VP
Preview YouTube video La La Land – City of Stars DUET – Lyrics
La La Land – City of Stars DUET – Lyrics
Preview YouTube video 2016 A Selfie a Day
Preview YouTube video 2016 A Selfie a Day Face Movie
2016 A Selfie a Day Face Movie
February 28, 2017
Sunday: Last Sunday our ride was "Honolulu For Lunch" starting from Monterey Park and heading up to Montrose. It was a drizzly morning with scattered showers predicted during the day. I had ridden a solo century the day before and didn't feel much like riding anyway, so I used the rain as an excuse not to go. I was beginning to think no one else had shown up either until today when I got an e-mail from Rick Gordon. He did show up and rode the medium route. But he showed up late, so it is unclear whether there were any other riders who started at the scheduled time. Rick submitted a lengthy report which I have attached to this e-mail. It sounds like he did hit a little rain, but had a nice ride anyway.  He included this selfie which I think was taken on the Rio Hondo: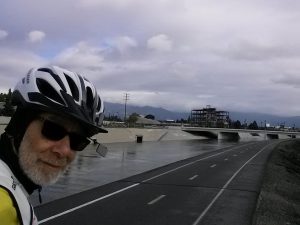 Next Sunday:  This Sunday is our annual installation lunch and ride.  The rides start from the Corner and will let you get in a few miles before taking you to Lindberg Park in Culver City for our lunch and installation ceremony. Besides installing next year's officers, various awards will be given out including the Jack Flynn Award.  No one knows who won except our accountants, Price Waterhouse, and I'm sure we can count on them to get it right.  You don't have to do the ride to attend the lunch. Simply show up at the park around noon.  Additional information is in the schedule on the club web site.  If you plan to attend, please RSVP to club secretary, Nancy Domjanovich at nancyadnil@nullsbcglobal.net
Photos:  I have only the one photo from last Sunday, but here are a couple from the prior week. The first is from Phil Whitworth and shows what a number the recent rains have been doing on the beach bike path.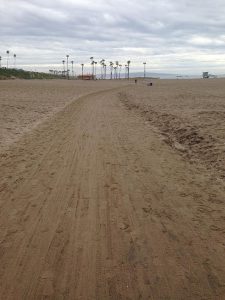 There is a bike path under there somewhere.  Fortunately, when we rode this a couple of days later, the beach crews had pretty much cleaned it off — at least until the next rain storm.
The 2nd photo (also from Phil Whitworth) is of the Triple Dipper Group on a recent Thursday taken at the Marina del Rey bridge where the group meets.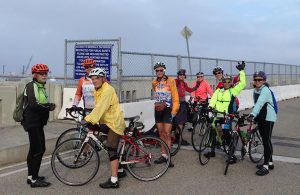 This Thursday ride continues to grow and sometimes has more riders show up than the regular Sunday rides.
I don't have anything else to report tonight so I'll just close with this:  I hope to see a lot of you at the installation this Sunday. It's always nice to see club members in a setting other than a bike ride. The food and the entertainment will be worth the price of admission (OK, it's free, but still).
See You On The Road
Rod Doty, VP
Archives