VP Newsletter
By Rod Doty, VP
Select a tab below to view the newsletter indicated.
January 10, 2017
Hello All
Holiday Party: Last Saturday night was our annual holiday party. It seemed a little more sparsely attended than usual — I'm not sure why.  We moved it to January a few years ago to avoid conflicts with other holiday plans in December, but that hasn't seemed to help.  Anyway, for those who attended, it was the usual pleasant evening of conversation and food. Dessert was different this year — warm peach cobbler with whipped cream — yum yum.  The rest of you missed a good time. You should really plan on attending next year. I took my camera, but forgot about it all evening until the party was just about to break up.  So I only got this one good shot of a group I had been sitting with in the kitchen.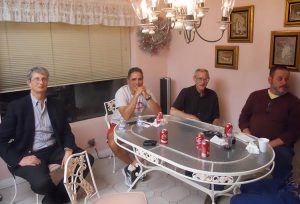 That's Jacques Stern, Dennis Miller, Terry Neff and Mike Wapner.  Combined, these 4 members rode 139 centuries last year and 87 metric centuries.  Must have been all that Coke.
Sunday: Last Sunday we were riding "Cal Poly By Golly"  I had scheduled this last fall, but a heat wave wiped it out so I rescheduled it for Sunday. I was worried it would be rained out this time, but it turns out we had the best day of weather we have had in weeks.  Despite the great weather, we only had 7 riders. We didn't take the usual shot of the group at the start, but I think I remember who they were: Bill Faulkner, Terry Neff, Phil Whitworth, Russ, Brynes, Hoy Quan, Gary Murphy  and Me.  I was still getting over my cold and decided not to push it, so I and two others did the medium route. The other 4 did the long.  We had many great views of the snow on Baldy.  Here is one sent by Gary (taken from the dam at Puddingstone Reservoir):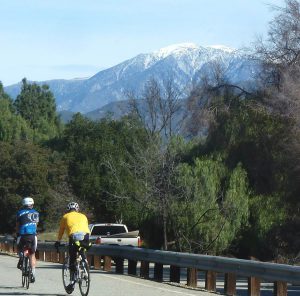 Here's another taken as we entered the campus of Cal Poly.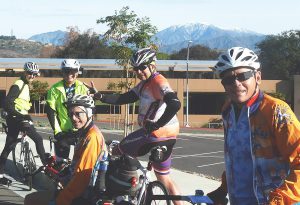 As a final example of what a nice day it was, here is a shot of Puddingstone taken by Phil:

I always look forward to seeing the farm animals at Cal Poly, but there were only some sheep (sweaters on the hoof) and a few cattle.  I noticed there is now a vineyard on the campus, so I guess they have added viticulture to the curriculum.
Corner Ride: I don't often get photos from the Corner Ride, but Sandy Weiner sent me this selfie from last Sunday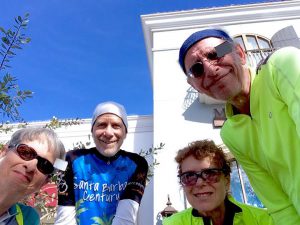 From left to right, that's Jacques Stern, Rick Gordon, Ann Trank and Sandy.  The building behind them looks familiar, but I can't quite place it.
Next Week:  Next week we will be riding "Bike Trails Galore." As you might guess, these routes spend most of the day on bike trails. The long rides 5 different bike trails and is on surface streets for only a few miles. The river trails can be boring, but they make up for it by providing low stress riding (no cars and no hills) and  conversation is easier as you ride.  It should be a pleasant day.  I plan to be there and I hope you will too.
2017 Century/Metric Century Challenge:  Hoy Quan (our Century Challenge Administrator) wants me to mention that the reporting system for centuries and metric centuries has now been updated to allow you to enter your 2017 centuries.  Those who participated in 2016 can just go to the same page you used last year.  On the bottom of the sheet there is now a tab for 2017 for your 2017 centuries.  2016 is still available if you haven't finished entering all your centuries for that year.   If you didn't participate last year but want to in 2017, please contact Hoy at lawheelmen@nullgmail.com  He will set up your page so that you can report your centuries and metric centuries.  It would be nice to see some new participants this year.  Especially since we are going to offer a Metric Century of the month as well as the Century of the month as we have in the past.
Thanks: At the party last Saturday, more than one person told me they enjoy reading this weekly e-mail. That made me feel good. I enjoy writing this each week, so I'm not likely to quit, but sometimes I wonder if anyone out there is reading it.  So it was nice to find out that some of you do.  Thanks.
See You On the Road
Rod Doty, VP
January 3, 2017
Happy New Year Everyone:
Sunday:  Sunday was New Year's Day and we held our annual Kick-off Century out in Malibu.  This year we added a metric century and a half century for those so inclined. We had 9 riders at the start, but I also received word later from Kit Gray that he had ridden from home and completed a metric century. Eight of us rode the full century and one other rider rode the metric.  Phil Whitworth took this photo of the group at the start. I think there was a late arrival so there are only 7 of us in the shot.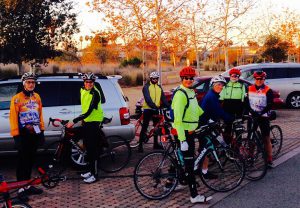 You can tell by the way we are dressed that it was a bit nippy at the start.  It got better as the day went on and the ride back was pleasant. We did have a rare occurrence — We had a tail wind going north and it turned around so we had a tail wind coming back south. I dream of days like that.  Gary Murphy took this shot which shows what a clear day it was.  That's Anacapa Island on the left in the distance.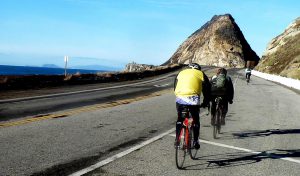 It was a good day for us all and we all jumped into the lead for the number of centuries ridden in 2017. 
Monday: The Rose Parade was held on the 2nd this year and I was so looking forward to riding to the parade.  But I developed a sore throat while riding the century on Sunday and it was clearly a full blown cold when Monday morning came around.  So I didn't make the ride.  However, I had a report from Gary Murphy. He sent this group shot: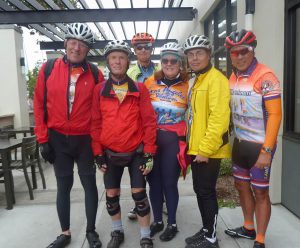 From left to right, that's Saul Miller, Gary Murphy, Jacques Stern, Nancy Niebrugge, Mike Eberts, and Dennis Miller
He sent a few other photos which show how close we can get to the floats before the parade starts.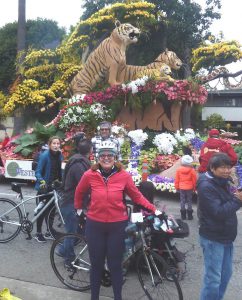 That's Nancy in front and in the back is Thomas Knoll who Gary said was also there with girlfriend Cheryl.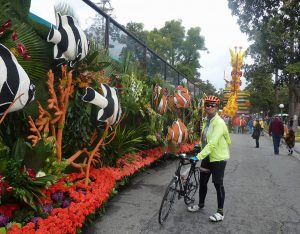 Here is Jacques alongside what appears to be the famous surfing dog float (but I'm not sure).   No one sent me any photos of the sky-writing, but maybe they didn't see that.   Looks like they had a good day.  I wish I had been there. The parade won't be on the 2nd of January again until 2023.
Next Sunday:  Next Sunday we will be riding "Cal Poly By Golly." This was scheduled for last September, but there was a heat wave and no one showed up. So I rescheduled it for this week.  Well, it's not going to be too hot, but it might be a bit too wet.  Long range forecasts are not encouraging.  These are nice routes and I'll be sorry if we don't get them in for a 2nd time.  I'm not going to reschedule them again until they come up in the normal rotation.  Of course, if I don't get over this cold, I won't be there anyway.  Well, I can hope and I hope to see a bunch of you there on dry streets.
Milestone: Last Thursday on the last Triple Dipper ride of the year, Phil Whitworth went over 10,000 miles for the year.  We stopped and took a photo at the exact point where he hit 10,000.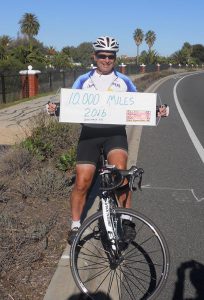 If you can't read the box in the lower corner it says "Total Rides: 158, Centuries: 14, Metric Centuries: 121, flats: 5 and Triple Dipper Rides: 49
 Congratulations Phil — that's quite an achievement.
Party!  One last time — the Club's holiday party is this Saturday at Kermit Ganier's home in Malibu.  If you haven't already, please RSVP to Nancy Domjanovich at nancyadnil@nullsbcglobal.net  The party is indoors, so don't let the rain keep you away.
USC  Last week I confidently said everyone would be home from the parade ride in time to watch USC beat Penn State.  They almost made a liar out of me, but came through in the end.  Take that. you cheese steak eaters (I don't know any epithets for people from Pennsylvania).  Between the Cubs and USC football, I had a good year in sports.
See You At the Party
Rod Doty, VP
December 27, 2016
Hello All
Last Sunday:  We had our annual Christmas day ride last Sunday.  There were 11 of us at the start and Phil Whitworth took this shot of the group:


Emma Pham had to cut out early, but then we picked up Mike Eberts  and Nancy Niebrugge along the way. But then we somehow lost two newcomers who went off to do an extra climb in Griffith Park and were never seen again. So that meant we had 10 riders to gather for our traditional photo up on Carroll Street. Phil took the group shot.  I thought it was a shame he never gets into these photos, so I Photoshopped him into this one. See if you can pick him out.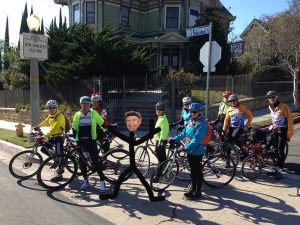 Looks like he has lost weight.  We had a nice break in Chinatown which seemed a little busier than last year.
This Sunday: This Sunday is New Year's Day and we will be offering our usual New Year's Day Century which travels from Malibu up to Ventura and back. This year however, we are also offering a Metric Century and a Half Century to round out the day's offerings.  All these routes are fairly easy with the only hills being those along PCH, which you will ride in both directions.  It's always nice to start the year off with a good ride under your belt. It sets a tone for the entire year. I hope to see a lot of you out on Sunday.
Monday:  This year, because New Year's Day falls on a Sunday, the Rose Parade and Rose Bowl Game (as well as most other January 1st bowl games) are being held on Monday the 2nd.  This means that even if you rode with us on January 1st, you can still ride our annual ride to the Parade.  It's only 14 miles, so you can't claim you are too tired. It is the best way to see the parade because you don't have to battle the traffic into Pasadena and back. We ride to the parade from Alhambra and we also ride down Orange Grove Ave where the floats line up before the parade. This gives you an up close and personal preview of most of the floats before the parade even starts.  You can't beat it.  I plan to be there and look forward to seeing a lot of you out for this ride.  You will be home in plenty of time to watch USC beat Penn State in the Rose Bowl.
Holiday Party: Just another reminder of our Holiday Party on Saturday, January 7th.  Remember to RSVP with Nancy Domjanovich atnancyadnil@nullsbcglobal.net
Beautiful Weather: As long as you dress for the cold, cycling this time of year can be very nice because the air is so clear after the rains.  Here's a shot I took today of the snow capped mountains as seen from the end of Ballona Creek in Marina del Rey.  You don't see that every day.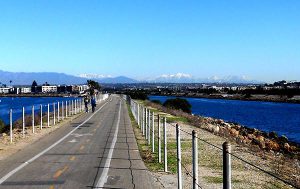 Year End:  This is my last VP Report of the year.  I hope it's been a good year in cycling for all of you.  I had a pretty good year.  I managed to complete the Grand Tour one more time (my primary goal of the year) and I will end the year with 8000 miles.  I'm a big believer in setting goals.  If you don't have something to shoot for, it's too easy to stay in bed on mornings when you should get out and ride.  I see one of the primary purposes of this club as helping its members achieve their cycling goals by providing plenty of rides and the mutual support of its members.  Besides our weekend rides, we also have groups that ride every Thursday and Wednesday.  So, set some goals for yourself and then use the club to achieve them. That's what we are here for.  You can have a great cycling 2017.
Happy 2017
See You On The Road In The New Year
Rod Doty, VP
December 20, 2016
Hello All:
Last Sunday: Last Sunday we were down in Tustin for the "Amazing Maze" ride.  I think there were nine of us. Phil Whitworth took this photo of us at the start: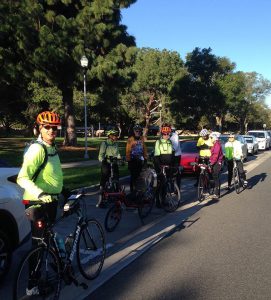 From left to right that's Jacques Stern, Lee Meller, Terry Neff, Me, Thomas Knoll (behind me), a newcomer, Sheila Szymanski, and Nancy Domjanovich.
The group split in half with five of us doing the long and 4 doing the medium. The morning was cold but it turned into a nice day. I ate lunch out on the patio at Knowlwood and the medium riders (who went to an alternative lunch off the route) apparently did also, as this photo shows: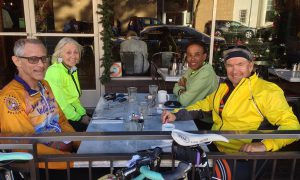 I was a bit disappointed about one thing.  I had touted this ride for it's great holiday decorations in the Villa Park area.  I hardly saw any. I don't know what happened. The last time I did this route in December I seem to remember a lot of elaborate decorations.
The medium rider's detour to the alternative lunch must have taken a bit longer than anticipated because they finished about the same time as the last of the long riders.  It was nice to come back together at the end.
Next Sunday: As I mention in the ride schedule, this coming Sunday is unusual because Christmas falls on a Sunday.  That means our regular Sunday ride will be our standard Christmas ride from the Corner to downtown and back.  There is only the single route.  Also, this year Chanukah coincides with Christmas closer than usual (I think Christmas is the 2nd day of Chanukah).  So I've designated this Sunday's ride as our Christmas/Chanukah Ride.  This ride is always pleasant as the streets are fairly quiet on the holiday as we cruise along Mulholland Drive and through both Griffith Park and Elysian Park. A highlight is always the trip along Carroll St with it's restored Victorian Houses.  We often stop here for a group photo.  We take a break downtown in Chinatown and then it's a quick trip back to the corner.  I hope to see a lot of you out.
Holiday Party: Everyone should have received their invitation to the club's Holiday Party (via e-mail). If you haven't, please contact me.
Ride Policy: We are making a couple of changes to our ride scheduling policy in the coming year.  First, while we will continue to schedule at least one century each month for those participating in the century challenge, this year we are going to attempt to offer a companion metric century with each century.  This is for those who want to participate in the century challenge at the metric century level.  This first one to do this will be our annual January 1st century.
Second, in most months, we are going to move the monthly century/metric century to Sunday. We may also add a short route to round out the usual three-tiered ride program.  We are doing this for several reasons, but a principal one is that riders who show up for the Saturday centuries are often the same ones that show up for our usual Sunday rides and if they ride on Saturday, the don't show up on Sunday.  This way we won't be splitting our ridership between two days and with the addition of metric centuries and perhaps a half century route, the Sunday rides will still have the usual choice of distances.  This policy won't start until March because I had already scheduled February and it won't be in effect during April, May and June when we run the usual Grand Tour training rides on Saturday.  If you have any comments on these changes in policy, we would like to hear them. 
Photos: I have a couple of photos from last Sunday I thought were mildly humorous.  The first is from Phil: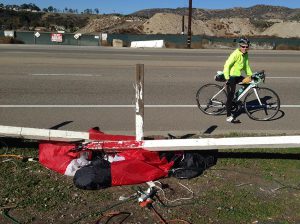 This appears to be an inflatable Santa that was the victim of a drive-by.  Apparently the war on Christmas isn't quite over.
I took this next one.  The long route passed the Saddleback Church off El Toro Blvd.  This is one of those so-called mega-churches or "big box churches" which (according to Wikipedia) has more than 20,000 attendees each week.  But this photo shows that the church is not so popular with at least one person: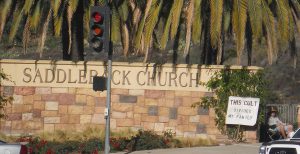 Happy Holidays and 
I'll See You On The Road
Rod Doty, VP
Archives
Select the VP Newsletter Report indicated from the documents below…