VP Newsletter
By Rod Doty, VP
Select a tab below to view the newsletter indicated.
May 18, 2017
Hello All:
Last Weekend: Last Saturday was our 7th Grand Tour trainer — "Yerba Buena."  Phil Whitworth took this shot of the group at the start.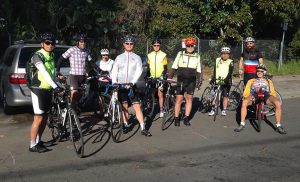 I count 9 riders and with Phil that would make 10.  Terry Neff and I brought up the rear and after the start, I never saw any of the other riders again. I know many of them were planning to ride up Mulholland rather than Yerba Buena.  Either way it was a nice day for riding in the mountains. The predicted winds never really seemed to materialize.  I hadn't ridden Yerba Buena in a few years.  It seems they have repaved short pieces of it, but not enough to really matter and none of the repaving was on the one mile bone-shaking downhill portion before you get to the LA county line.  Once you cross into LA county, the road seems as smooth as glass.  As we were sitting at lunch, a Ferrari club showed up. There were 12 of them in the parking lot.  At a minimum of about $250,000 each, that's at least 3 million sitting there. Pretty impressive, but pound for pound, a high-end bicycle costs more.
I didn't get any other photos, but since this was our last visit this year to the Rustic Canyon General Store & Grill (which has apparently been renamed "Kristy's Roadhouse"), I took a picture of my lunch.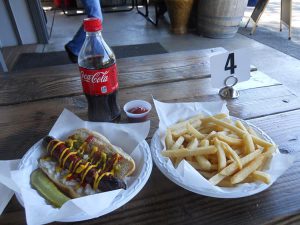 Yum, yum.  Until next year.   
Sunday we were riding the "Oak Ridge Rides." There were six of us on the ride (plus a San Fernando Club rider who just rode with us to the top of Santa Susana before turning back).  The six were Nancy Domjanovich, Lee Meller, Bill Faulkner, Jacques Stern, David Nakai and me. Mother's Day may have taken a toll on our ridership. I had added a metric century route to this ride and it turns out that is what all of us rode. I had used a street I had never ridden before and I'm always nervous when I make a route based on the map without checking it out first. But the street turned out to be nice and wide and smooth. It did have a long climb on it, but I knew that would be there.  I forgot to take any photos until near the end of the ride when we were on top of Santa Susana the second time.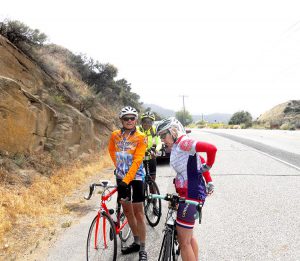 That's Bill Faulkner, Lee Meller and Nancy Domjanovich, who unfortunately got a phone call just as I took the photo. The call was from the other two riders who called to say they were taking a break back down in Simi.
Next Week:  Next Saturday's trainer is "Potrero."  That's a fearsome name to me. The really steep part is only about a mile long, but it's one of the toughest one-mile climbs I know.  I used to try and ride it once a year, but it's been a few years now since I've been up it. It's on the Grand Tour Highland route, but I just found out tonight that this year the Grand Tour will not be including it. It's a good test of your readiness however and I look forward to the challenge of climbing it again this Saturday.  It's really the only major climb of the day. The full route is over 90 miles and includes several other moderate climbs, but once you are up Potrero, the rest should be easy.
On Sunday we will be riding "South Bay Typical." These routes start in Torrance and spend the day in and around Palos Verdes. The routes are not very long but the Long route makes two trips up to the top of the peninsula, so it has a good amount of climbing.  I created a new medium this year which more closely follows the long route than the old medium, but cuts off the major climbing. They meet up for lunch in San Pedro and then return together. The short does it's own thing, but still goes to San Pedro and back. I hope to be there, but after the trainer on Saturday, I'll probably opt for the medium route.
Grand Tour Jersey: Kermit Ganier has sent me pictures of this year's Grand Tour Jersey. I believe they are also posted on the club web site and I plan to include it on the cover of the schedule going out later this week.  I think it looks pretty good.  Here's both the front and back view: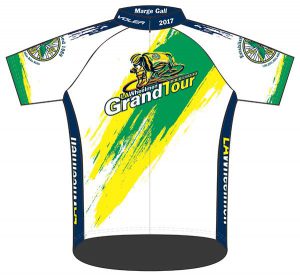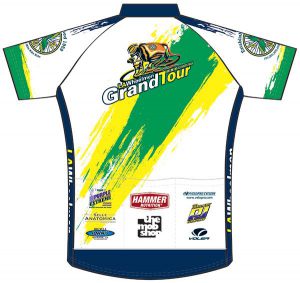 Racing a Ferrari:  I had an enjoyable ride back down PCH at the end of last Saturday's trainer.  As I turned onto PCH in the Malibu Civic Center area, a Ferrari turned onto PCH with me (maybe one of those I had seen earlier at lunch). Traffic immediately slowed down on PCH and I was able to pull well ahead of the Ferrari.  It was a few miles later when it finally caught and passed me.  But then traffic slowed and I pulled ahead again. This time it didn't catch me until shortly before Topanga. But when i pulled up to the red light at Topanga, there he was sitting at the light right next to me.  Once again he pulled ahead of me, but when I came to the red light at Sunset, there he was, sitting at the light in the left turn lane. So that's where I lost him. My theory is that he didn't want to face the humiliation of being beaten by a bicycle any more and that's why he was turning off. Anyway, it was fun to beat a Ferrari on a bicycle.
See You On the Road,
Rod Doty, VP
May 9, 2017
Hello All:
Last Saturday:  Last Saturday the trainer was Latigo/Stunt. There were predictions of scattered showers and I hate to admit that I violated my own rules about ignoring such reports and I did not ride. I was up however, so I drove over to the start to see if anyone else would ride.  Six riders showed up to ride: Thomas Knoll, Sheila Szymanski, James Carter, Josh (whose last name I don't know), Phil Whitworth and Emma Pham.  They later reported to me that they either encountered no rain or at most some drizzle.  Why oh why didn't I ride?  I should have known better. 
Anyway, I had several photos sent to me.  This first is from James and I think shows the view from Latigo.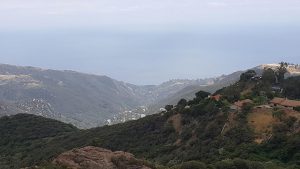 This second is from Phil and was obviously taken on Stunt Road, but I can't picture exactly where. That's Emma mugging for the camera.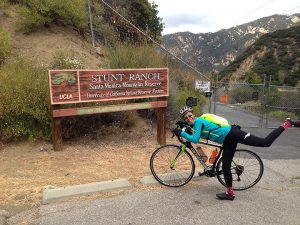 Finally I have a photo of Phil, taken by Emma.  I so seldom get photos of Phil (he's usually taking them) that I thought I should include it.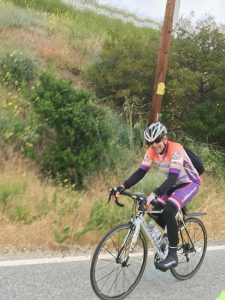 It looks like it was a nice day to do  the ride.  I later heard from Gary Murphy, who went out and did the trainer on Monday and said it was a nice day.  I hated missing the trainer myself, so I went out and rode it today.  The weather was mostly nice today too, but foggy at the tops of both major climbs.  Part way up Stunt I stopped to rest in the sun but a mile and a half later at the top it was like this: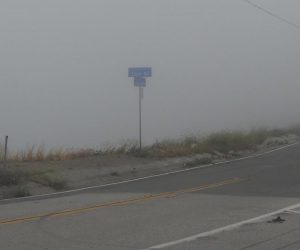 Amazing how fast it can change as you climb.
Sunday: On Sunday we were down in Orange County.  Since I had blown it on Saturday, I was determined not to let another opportunity pass.  The drive down made it look like it was going to be a good day to ride, but just as I got to the start, I went through a stretch of rain that got the streets wet.  Two other riders showed up: Saul Miller, and Bob Wyman.  They decided not to ride since everything was wet.  I thought it was supposed to be only scattered showers and it might still be OK, so I decided to ride.  After less than half a mile, I decided it was no good and turned around to head back.  But when I turned around I saw a patch of blue sky in the distance and I thought maybe I was too hasty.  So I continued the ride.  I finally got to the blue sky, but only after 13 miles of constant sprinkles — not enough to really get me wet, but not pleasant.  When it cleared off, I decided I might as well keep going.  But it was on and off rain the rest of the day.  I think I must have ridden about two-thirds of the ride in the rain.  Well, David Nakai would be proud of me.  At least the last few miles were in the sun and I was nice and dry by the time I got to my car (except for my feet which never dried out).   I didn't take any photos.  I didn't want to get my camera wet.  Well, it serves me right for not riding Saturday.
Next Week: This Saturday is Trainer number 7 — Yerba Buena.  (Thanks to a recent LA Times Crossword, I now know that "Yerba Buena" was the original name for San Francisco.  I don't think that has anything to do with the name of the road down here, but it's interesting.)  There is only one major climb on this one, but it's the long climb up Yerba Buena. There are several smaller climbs — especially if you take the inland return option.  There is no talk of rain this weekend so we should all feel confident in showing up for this one. 
Sunday we will be riding the "Oak Ridge Rides."  Starting from Northridge all these route head west and then return. Originally the long was a century, the medium was a half century and the short was a quarter century.  For those wishing to get a metric century in for the century challenge, I have added a metric century which is just the half century route with an extended loop to the west. So, something for everyone.  After the trainer on Saturday, I probably won't be up for the full century on Sunday, but I could go for the metric or half centuries.   All routes go over Santa Susana both directions, but that's the bulk of the climbing on all the routes except the long, which does a little extra climbing in the ridge west of Moorpark.  The weather looks good right now, so I don't think I'll be riding in the rain again.  So why not join me.
Spring Love:  It's spring and the thoughts of many a peacock turn to love.  Last Thursday on the Dipper ride, we encountered this one strutting his stuff. Gary Murphy took the shot: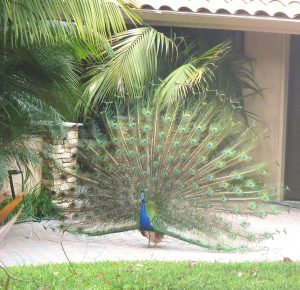 See You On The Road
Rod Doty, VP
May 2, 2017
Hello All:
Last Saturday:  Saturday was our training ride to Mount Baldy. I started early so I'm not sure exactly how many were on the ride.  I can think of 10 for sure, but there might have been a few others.  Mel Cutler met a couple of riders in Baldy, but I was unsure if they were on our ride or just happened to be there at the same time.
I took the Baldy Road route and  the others came up the traditional route along Glendora Mountain Road and the Glendora Ridge Road. It was supposed to be very windy, but the winds were manageable.  I think they might have been worse for those on the Ridge Road than for me, but all but one made it to the village. I made a half-hearted attempt to ride to the ski lift, but only went about a mile and a half.  The winds seemed to be getting stronger the higher I went, so I gave it up.
An organized event was going to be riding to Baldy on Sunday and they were already putting up signs for their riders.  I particularly enjoyed  the one on Baldy Road that said "Shut Up Legs" — the catch phrase of Jens Voigt (and his book title) who was appearing at the ride on Sunday.
An additional 5 riders who were deterred by the predictions of wind on Saturday (fake weather news — sad) did the ride today. I understand that two of them make it to the ski lift and a third almost made it there.
I have a variety of photos from Saturday.  The first was sent by Gary Murphy and is of the eagles nest on Hwy 39.  It appears that there are a couple of new eaglets again this year.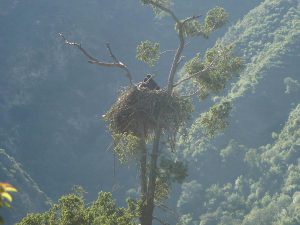 This next one is another sign I found amusing.  I never see this kind of sign in Culver City.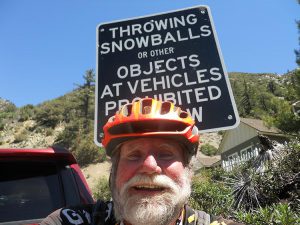 Finally, here is a photo sent by David Williams of a yucca in bloom.  Normally not a very pretty plant, but when they bloom like this, the yuccas can make the mountain landscape pretty.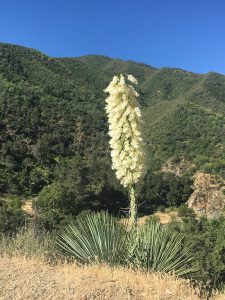 Last Sunday:  Sunday we started from Alhambra and the the goal for most of us was Chantry Flats. I believe there were six of us. Here's an unposed shot at the start from Phil Whitworth.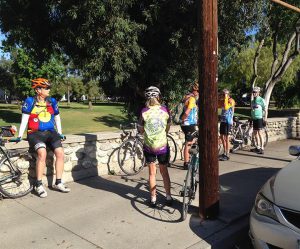 From left to right that's Jacques Stern, Chris Hedberg, me, Bill Faulkner and Russ Brynes.  Jacques and Chris opted for the medium route  and the rest of us did the long, which is just the medium with the climb to Chantry added.  I was tired from riding to Baldy the day before and had initially thought I would skip the climb to Chantry, but when I got to the bottom I decided "What the Heck" and went for it.  Once I was at the top, of course I then felt glad that I had done it.  Isn't that how it always is?  Lots of hikers up there.  I think we began encountering parked cars almost a mile and a half below the top where the trail heads are.
One of the things that got me up that hill was the thought of the chili fries I wanted to order at lunch.  I would have felt guilty eating them if I hadn't done the climb.  I still would have ordered them, but I would have felt guilty.  By lunch, the group had split up and it was only Bill and me at lunch.  But Phil later sent me the photo below from Fosselman's Ice Cream, so he had his guilty pleasure too.  Fosselman's is only a couple of blocks from our Alhambra start location and we start a number of rides there.  I sometimes think I should tack on a visit to the ice cream shop at the end of all those route sheets.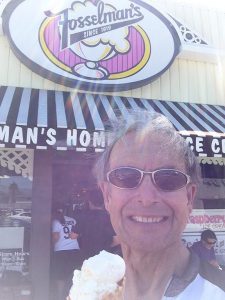 Next Week: Saturday's Grand Tour trainer is "Latigo / Stunt." There are several options on this one, but the basic route with the coastal return is the exact reverse of the trainer we did two weeks ago.  So, instead of flying down Latigo, we climb all those twists and turns. And after lunch, instead of zipping down Stunt Road, we will be grinding our way up that 4 mile hill.  Once at the top, we whiz down Saddle Peak and Fernwood Pacific.  Once in Topanga, you pick your option. It's either the coastal return or an inland return. The inland route adds two more medium climbs — up and over Old Topanga and over Sepulveda.  There is a century option which adds about 10 extra miles to the inland return.  We run this particular trainer every year and I like to use it as a gauge of my training at about the half-way point to the Grand Tour.  Last year I suffered just finishing the coastal return option.  This year, I hope to do the inland return.
Sunday we will be down in Orange County for "Orange Thrill at Redhill."  These routes are not too difficult as they wind around Irvine and points south. I hope to be there, but I use these Sunday rides as recovery rides from Saturday, so I might settle for the medium or a very sedate-paced long.  So why not join me.  There's talk of rain on the weekend, but I'll believe it when I see it (more fake weather news — so sad).
Closing:  I'm racking my brain here for something to close with tonight, but I got nothin'.  Cubs are leading their division, but they do not appear to be the team of destiny they were last year.  Guess it's harder to swing a bat with that heavy world series ring weighing you down.
See You On The Road,
Rod Doty, VP
April 25, 2017
Hello All:
Saturday:  Last Saturday was our 4th Grand Tour training ride which took us up Topanga and Fernwood Pacific.  I heard from Thomas Knoll who said he, Sheila Szymanski, and James Carter started early to beat the heat — we never saw them.  I think there were 11 of us starting at the scheduled time.  We didn't take a photo at the start and the climbing sort of spread us out.  There was a trailing group of 3 and I later heard they cut the route short. I was dropped by the main group but caught up to them at lunch where Phil Whitworth took this shot.  One other rider skipped lunch to get a head start on the final climb.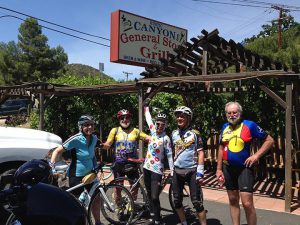 From left to right, that's Nancy Domjanovich, Mel Cutler, Emma Pham, Gary Murphy and me.
For me the highlight of the ride was the 7 mile downhil on Latigo.  Some skipped it (going down Kanan instead) but despite the extra effort it took me to get to the top, I enjoyed it.  I could feel the temperature drop every mile as I approached the coast.
I received a ton of photos from Saturday.  Here are a couple more.  This first was sent by Mel and was taken on Fernwood Pacific (or maybe it was Saddle Peak).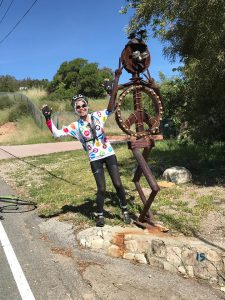 That's Emma again (on the left).
This next photo was sent by Gary and is of Nancy and Emma climbing up the Rock Store hill.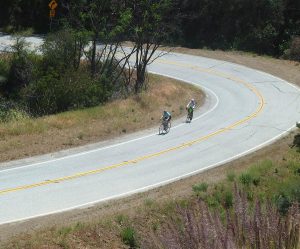 Sunday: On Sunday we were out in Reseda for "Reseda Park – Phase II"  There were 6 of us: Bill Faulkner, Mel Cutler, Russ Brynes, Kit Gray, Bob Wyman and me. Bill and I started out to do the long route, but essentially ended up doing the medium.  Kit also basically did the medium, but chose to go up and over Box Canyon — a very tough climb I really didn't have the legs for after Saturday.  The rest I believe did the entire long.  The weather was noticeably cooler than Saturday and even coming back over Santa Susana in the afternoon wasn't too bad.  I only have one photo from Sunday which was sent to me by Russ: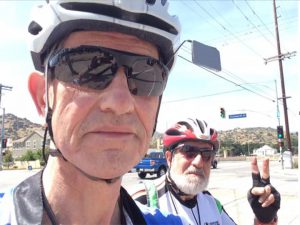 That's Russ in front with Mel behind.  I'm not sure where it was taken and I can't read that street sign behind them.
It was a good ride.  I just wish there had been more riders.
Next Week:  Saturday will be our 5th Grand Tour trainer and one I look forward to every year — Mount Baldy.  Even if you are not training for the Grand Tour, you might want to try and make this one.  It's very pretty up there and it's a nice challenge to get up there.  And if just getting the Mount Baldy Village (where we have lunch) isn't enough for you, there is always the optional 5 mile climb up to the ski lift.  I tell myself I'm going to do it every year and so far I've only done it once. Maybe I'll make it this year.  Another thing to look forward to is the downhill on GMR. I thought the 7 mile downhill on Latigo was fun last week, but this one is even better. Well worth all the effort to get up to the top.
On Sunday we will be riding "Arcadia 'N Stuff."  The highlight of these routes (and it's only on the long) is the climb up to Chantry Flats.  It's no climb to Baldy, but I still don't know what possessed me to schedule the climb to Chantry the day after going to Baldy.  Well, there is always the medium and short routes which are relatively easy.  However, I hate to pass up a chance to go up to Chantry, so I might try to do it even if I'm still tired from Saturday.  After all, it's a short ride and I have all day. The reward is a trip to Tops for lunch after we come down.  I always get the huge order of Chili Fries.  I will have earned it if I go to both Baldy and Chantry.  Why not join me?
Club Meeting: Last Thursday we held our monthly club meeting.  Attached are the minutes from that meeting.  Kermit showed us a preliminary version of the Grand Tour jersey for this year.  It looks good.  When it is finalized, I'll include a copy of it in this weekly e-mail.
Grand Tour Staff: At the meeting, Ira Kucheck indicated that staffing for the Grand Tour is coming along well, but there are still a few places to be filled.  If you would like to volunteer, please contact Ira at ikucheck@nullgmail.com or at 949.759.2975.
Spring Flowers:  Everyone knows that with all the rain this spring, the flowers are more beautiful and abundant than usual. Well, you don't have to travel way out of town to find them. It strikes me that even the well manicured yards in Palos Verdes seem more beautiful than usual this year and as this photo from Gary Murphy shows, even the wild flowers on Palos Verdes are more abundant than usual.

So get out there and ride.  These flowers won't last forever.
See You On The Road,
Rod Doty, VP
Meeting Minutes for April, 2017
Archives