VP Newsletter
By Rod Doty, VP
Select a tab below to view the newsletter indicated.
April 25, 2017
Hello All:
Saturday:  Last Saturday was our 4th Grand Tour training ride which took us up Topanga and Fernwood Pacific.  I heard from Thomas Knoll who said he, Sheila Szymanski, and James Carter started early to beat the heat — we never saw them.  I think there were 11 of us starting at the scheduled time.  We didn't take a photo at the start and the climbing sort of spread us out.  There was a trailing group of 3 and I later heard they cut the route short. I was dropped by the main group but caught up to them at lunch where Phil Whitworth took this shot.  One other rider skipped lunch to get a head start on the final climb.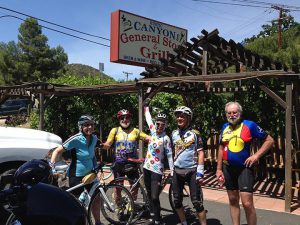 From left to right, that's Nancy Domjanovich, Mel Cutler, Emma Pham, Gary Murphy and me.
For me the highlight of the ride was the 7 mile downhil on Latigo.  Some skipped it (going down Kanan instead) but despite the extra effort it took me to get to the top, I enjoyed it.  I could feel the temperature drop every mile as I approached the coast.
I received a ton of photos from Saturday.  Here are a couple more.  This first was sent by Mel and was taken on Fernwood Pacific (or maybe it was Saddle Peak).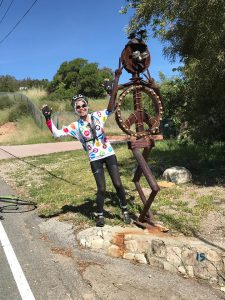 That's Emma again (on the left).
This next photo was sent by Gary and is of Nancy and Emma climbing up the Rock Store hill.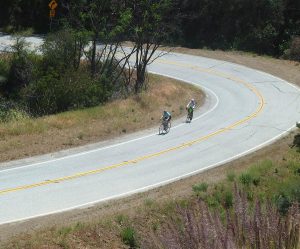 Sunday: On Sunday we were out in Reseda for "Reseda Park – Phase II"  There were 6 of us: Bill Faulkner, Mel Cutler, Russ Brynes, Kit Gray, Bob Wyman and me. Bill and I started out to do the long route, but essentially ended up doing the medium.  Kit also basically did the medium, but chose to go up and over Box Canyon — a very tough climb I really didn't have the legs for after Saturday.  The rest I believe did the entire long.  The weather was noticeably cooler than Saturday and even coming back over Santa Susana in the afternoon wasn't too bad.  I only have one photo from Sunday which was sent to me by Russ: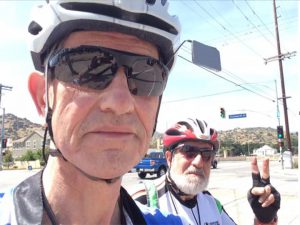 That's Russ in front with Mel behind.  I'm not sure where it was taken and I can't read that street sign behind them.
It was a good ride.  I just wish there had been more riders.
Next Week:  Saturday will be our 5th Grand Tour trainer and one I look forward to every year — Mount Baldy.  Even if you are not training for the Grand Tour, you might want to try and make this one.  It's very pretty up there and it's a nice challenge to get up there.  And if just getting the Mount Baldy Village (where we have lunch) isn't enough for you, there is always the optional 5 mile climb up to the ski lift.  I tell myself I'm going to do it every year and so far I've only done it once. Maybe I'll make it this year.  Another thing to look forward to is the downhill on GMR. I thought the 7 mile downhill on Latigo was fun last week, but this one is even better. Well worth all the effort to get up to the top.
On Sunday we will be riding "Arcadia 'N Stuff."  The highlight of these routes (and it's only on the long) is the climb up to Chantry Flats.  It's no climb to Baldy, but I still don't know what possessed me to schedule the climb to Chantry the day after going to Baldy.  Well, there is always the medium and short routes which are relatively easy.  However, I hate to pass up a chance to go up to Chantry, so I might try to do it even if I'm still tired from Saturday.  After all, it's a short ride and I have all day. The reward is a trip to Tops for lunch after we come down.  I always get the huge order of Chili Fries.  I will have earned it if I go to both Baldy and Chantry.  Why not join me?
Club Meeting: Last Thursday we held our monthly club meeting.  Attached are the minutes from that meeting.  Kermit showed us a preliminary version of the Grand Tour jersey for this year.  It looks good.  When it is finalized, I'll include a copy of it in this weekly e-mail.
Grand Tour Staff: At the meeting, Ira Kucheck indicated that staffing for the Grand Tour is coming along well, but there are still a few places to be filled.  If you would like to volunteer, please contact Ira at ikucheck@nullgmail.com or at 949.759.2975.
Spring Flowers:  Everyone knows that with all the rain this spring, the flowers are more beautiful and abundant than usual. Well, you don't have to travel way out of town to find them. It strikes me that even the well manicured yards in Palos Verdes seem more beautiful than usual this year and as this photo from Gary Murphy shows, even the wild flowers on Palos Verdes are more abundant than usual.

So get out there and ride.  These flowers won't last forever.
See You On The Road,
Rod Doty, VP
Meeting Minutes for April, 2017
April 18, 2017
Hello All and Happy Tax Day (or Sad Tax Day, as the case may be)
Saturday:  Last Saturday was our third Grand Tour Trainer. We left the hills in exchange for a relatively flat century — the old Paul Neuerburg Century.  I can't remember exactly how many riders we had but I count 12 in the photo below plus Phil Whitworth, the photographer, would make at least 13. There might have been one or two more not in the photo.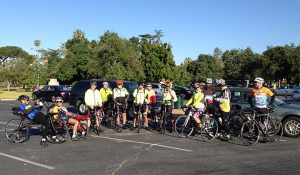 There might not have been many hills, but miles of headwinds made up for the difficulty. The group stayed together for a while. Here's a shot Gary Murphy took while were still all in a line.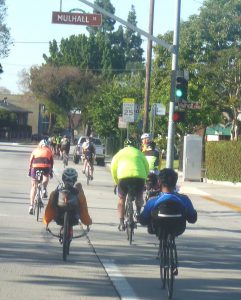 I hadn't ridden this route in maybe 10 years and I was concerned about a stretch on a bike path down in Yorba Linda.  My memory was that it was hard to follow. But the map showed that it was still there, so I thought we would be OK.  Well, the group I was with got lost.  It seemed the path just ended and we couldn't find where to pick it up again.  I have since looked at it using the satellite view on Google Maps and I'm not surprised we lost it.  It doesn't appear to be too well defined in a couple of places.  Well, we finally got back on track, although there was another detour due to construction.
What amazed many of us (including me) was the incredible number of homeless encampments along the Santa Ana River. It's been a while since I've ridden the Santa Ana River trail, but the number has certainly grown since then. I wish we had gotten a photo, but a single photo would not have done it justice. It's almost like a separate city.
Sunday:  Sunday was Easter and we were riding our usual Easter ride.  Only 3 other riders showed up besides myself and one of them was a newcomer.  I was fairly tired from Saturday and was hardly making 10 mph on the ride over to the Corner. The thought of doing the few small hills in Beverly Hills and trying to keep up with the other 3 didn't appeal to me, so I went off to do my own short ride to the  beach and back.  the other 3 were planning to do a modified version of the Easter ride, which is what usually happens anyway.  Hardly anyone ever does the whole thing. I hope they had a good day.  Unfortunately, I have no photos from Sunday.
Next Week:  This Saturday will be our 4th Grand Tour Trainer — the "Fernwood Trainer."  I designed this route to do a couple of downhills we don't often ride — Stunt Road and Latigo.  But to go down, we have to get to the top first and that involves a couple of good climbs. We have lunch at the Rustic Canyon General Store near the Rock Store, which is one of my favorite training ride lunch stops. The return is back along the coast, which at least makes for an easy finish.
Sunday we will be out at Reseda Park for "Reseda Park – Phase II."  Originally we were planning on riding Phase I, but Little Tujunga Canyon remains closed after last summer's fire, so we made the switch. Phase II heads out over Santa Susana Pass to Simi Valley (medium) or
Moorpark (long) and then returns back over Santa Susana a 2nd time. The long rides through Box Canyon which is always interesting, although somewhat steep.  The last time we rode this one, most of us turned back due to fierce headwinds.  I hope we can get it in this time.
Boston Marathon: Yesterday was the Boston Marathon and club member Mike Eberts ran in it.  I hope he had good time.  I know running in Boston is every marathoner's dream.  I just looked up the results on the web and Mike finished in 4:15:50. Congratulations Mike. I don't have many photos this week, so here is one from his Facebook Page taken before the race.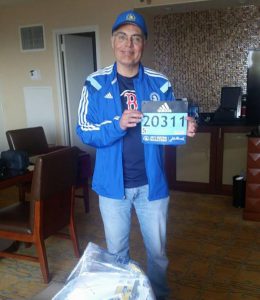 Grapevine:  I heard through the grapevine that Gail Standish (whose membership lapsed last September — somebody should remind her) is soon to undergo back surgery and will off the bike for a while.  We hope all goes well. The news isn't all bad — I also heard through the grapevine that Gail is now engaged to be married.  We hope that goes well too.
More Grapevine:  Speaking of marriage, I also heard through the grapevine that a couple of weeks ago member Thomas Knoll married his long time girlfriend Cheryl. Congratulations to them both.
Well, that's all the news for tonight.
See You On the Road,
Rod Doty, VP
April 11, 2017
Hello All:
Last Saturday: Last Saturday was the 2nd Grand Tour Trainer in our 12 week series. The ride was "Encinal Canyon" which climbed that canyon for its main event. I think there were 10 riders. Overnight rain may have discouraged some riders from showing up, but the day turned out to be fine. I took this photo of the group at the start, but several riders are missing: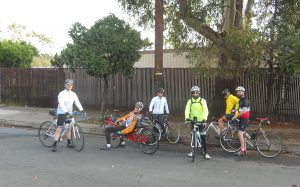 I can't remember the last time I've climbed Encinal so I wasn't sure what to expect. But it turns out to be 5 miles of a fairly even grade without any really steep parts. In the first half it gives you a few views back down to the coast. Here's a photo Phil Whitworth took of Gary Murphy at one of these points.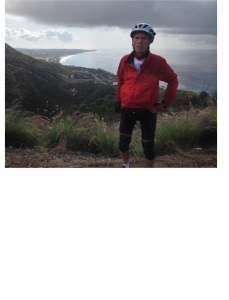 Some of us had a pleasant surprise as we came over Sepulveda near the end of the ride. Emma Pham was there to greet us. It was a nice end to a good trainer. That's two down and ten to go.
Sunday: On Sunday we were riding the "Tri­County Safari" starting from West Covina. The weather was very nice for riding so I was disappointed that only two other riders showed up: Chris Hedberg and Russ Brynes. I forgot to take a photo at the start. I looked through my past photos to see if I could find one where they were both in the shot, but couldn't find one. I was tired from the trainer the day before, so rather than hold them up all day, I told them to go on ahead. That worked out well because I was able to ride my own pace without worrying that I was holding up the group. Ironically, I finished a bit ahead of them. They must have spent more time at lunch than I did (They had lunch at a different location from me, so I didn't see them at lunch). Anyway, we all had a pleasant day. I took this photo at the bottom of Carbon Canyon just to show Gary Murphy that you don't have to go to Texas to see cattle.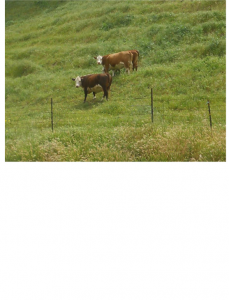 Next Week: Next Saturday is our third trainer. As we sometimes do, we leave the hills behind for one week but extend the trainer to a full century. This time we are riding the old "Paul Neuerburg Century" From Arcadia it heads to Yorba Linda where it picks up the Santa Ana River trail to the coast. It then heads north along the coast and back to the start via the San Gabriel River and Rio Hondo. With all the river trails, it's a very flat century ­­ less than 2000 feet of climbing. This is our century of the month for April, so we are also offering a Metric Century version.
Sunday is Easter and we will be riding our usual Easter ride ­­ the "Funny Bunny Ride" ­­ from the Corner. These routes are fairly short and eventually head down to the Marina for brunch or lunch. These are perfect recovery rides if you have ridden the century on Saturday, so I don't see why you all can't ride both days. I plan to be there for both.
Corner Ride: Sandy Weiner send me this photo from last Sunday's Corner ride. Apparently they stopped at Deus Ex Machina in Venice.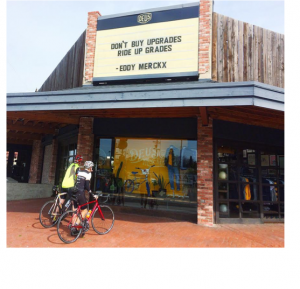 I wasn't familiar with this place so I looked it up on the web. It's something of an eclectic store since it not only offers bicycles, but also motorcycles and surf boards as well as clothing. It also has a cafe. They have locations around the world.  I like the quote on their marquee.
That's all for tonight.
See You On the Road
Rod Doty, VP
April 4, 2017
Hello All:
Saturday: Last Saturday was our first Grand Tour trainer of the season — the ever popular "Canyon Lakes."  There were 12 riders at the start, but later Mel Cutler, riding from home, caught us and as I was pulling out to go home, I saw Kit Gray coming in — he must have gotten a late start.  So that makes 14 total.  Here's a shot Hoy Quan took at the start: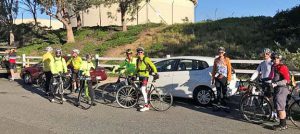 I and another rider were bringing up the rear going up Bouquet Canyon, but with the help of a flat tire, we were able to catch and finish with about 4 others.  It was a nice day for our first trainer.  It really only got hot for me on the final climb near Lake Castaic.  I had been looking forward to the wild flowers. Last year the hill at the turn-off to go to the poppy preserve was covered with them and I figured it would be even better this year with all the rain.  But I was disappointed. That hill was almost bare.  Fortunately, a hill a bit later had a lot of flowers. Gary Murphy took this shot: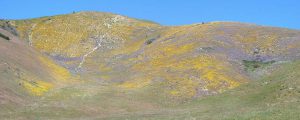 It's always interesting to see the state of the lakes on this ride.  Both Bouquet Reservoir and Castaic looked pretty full, but that isn't necessarily due to the rain we have had since both those reservoirs can be filled with water brought down from the north.  Lake Elizabeth and Lake Hughes, which are only filled by local rainfall, were still somewhat low, although not the mud flats they appeared to be last year.  Here's a shot Gary took of Emma Pham above Bouquet Reservoir on Spunky Road.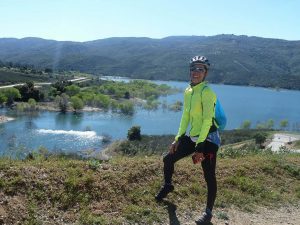 Sunday: On Sunday the ride was "La Tuna Melt" starting from the Zoo.  As expected, the Saturday trainer took its toll on attendance at the Sunday ride. I think there were only 7 riders: Bill Faulkner, Nancy Domjanovich, Russ Brynes, Mark Rubin, Mike Eberts, David Nakai and me.  None of my usual photographers were there so I don't have any photos from the start or elsewhere on the ride.  I was the only one who rode both days, but I was tired from Saturday and decided to do the medium. Bill went with me and the rest did the long.  I clearly made the right choice because the rest of the riders were almost out of sight in the first couple of miles. David submitted a report of the long route on the Yahoo Group, so some of you may have read that. It sounded like they had an interesting day.  I learned a lesson.  I had been dreading the 0.8 mile climb up Christmas Tree Lane in Altadena because I remembered it as very steep. But when I got there, it was quite a bit easier than one of the climbs I had done Saturday on the trainer. My lesson is that sometimes your memory exaggerates the difficulty of past climbs. Your fears may be unfounded.
Next Week:  Next Saturday is our 2nd trainer — "Encinal Canyon."  This is a bit longer than last week, but has about the same amount of climbing. However, the principal climb of the day (Encinal) goes higher and is steeper than the Bouquet climb last Saturday.  There's talk of rain, but if it remains only a chance of scattered showers, I'll probably risk it and show up.  I hate to miss a trainer.
On Sunday we will be riding "Tri-County Safari" which starts in West Covina. The long and the medium stay together until after lunch, so you don't have to make a choice until well into the ride. That works for me because if I ride both days again, I can wait and see how I'm feeling. Actually, the medium has fewer miles but about the same amount of climbing, so I don't know how much you would be saving by doing the medium.  And the long does two of my favorite canyons — Carbon and Brea.  Lunch offers lots of choices. David Nakai mentioned something about checking out some new place. Me — I'll be at the Habit Burger.  Why?  Because it's a habit.
Bike Path Repair:  Those who ride the Ballona Creek trail regularly know  that there is a rough stretch just east of Lincoln where some tree roots have pushed up the pavement. I noticed last week that the powers-that-be are finally on the case.  Here's a photo of their solution to the situation: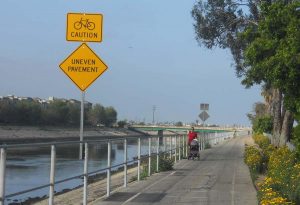 Problem solved, I guess.
That's all I've got for tonight.  My parting thought is that if I can ride both Saturday and Sunday, so can you. I don't want to be the only one hurting on Sunday.
See You On The Road
Rod Doty, VP
Archives