Registration Options

GRAND TOUR 2018
Los Angeles Wheelmen Bicycle Club
Double Metric Double Century Triple Century Quadruple Century
124 miles 200 miles 300 miles 400 miles
* * * * UPDATE * * * *
This year's 60th Anniversary of the Grand Tour will be held on Saturday, June 23rd 2018.
We're always looking for staff for the event and if you, a friend, or family member are available to volunteer, click or tap here – http://www.lawheelmen.org/volunteer/
* * * * * * * * * * * * * *
QUESTIONS? Contact grandtourinfo@nulllawheelmen.org
Before filling out the registration form via the link below, download the Grand Tour Waiver, ( Grand Tour Waiver ) fill it out, sign, and send to:
Ira Kucheck
LA Wheelmen
120 ½ Agate Ave.
Newport Beach, CA 92662
Click here to register for the Grand Tour – Registration
LA Wheelmen Grand Tour 2018 Info:
Hello 2018 Grand Tour riders, here are some updates to this year's LA Wheelmen Grand Tour. Please take a moment to read through it for the latest updates and then proceed to the registration page to sign up. A couple of highlights:
New location for the ride. It will start and finish from the Holiday Inn Express Hotel in Port Hueneme.

Registration will be electronic.

The routes available are the Lowland Double, the Highland Double, the Century Challenge, the Triple Century and the Quad Century.

Ride is limited to 350 vehicles and parking permits will be provided to registrants.

Slight route changes.

Jerseys available on demand.

Payment process.

Registration closes June 22nd.
NEW LOCATION:
After a lot of back on forth with our previous host facility and city, it was not possible to start and finish the Grand Tour in Malibu. We have arranged to start and finish the Grand Tour in Port Hueneme. A big thank you goes to the folks at the city of Port Hueneme for accommodating the Grand Tour. The ride will start and end at the Holiday Inn Express located at 350 E. Port Hueneme Road, Port Hueneme, California 93041. Dinner at the end of the event is not planned at this time.
HOTEL UPDATE
Grand Tour riders. Our primary hotel – Holiday Inn – Port Hueneme no longer has rooms available. Not to worry, we have rooms available for the same rate at their sister property, the Marriott Courtyard in Oxnard, approximately 7.5 miles away, 600 E. Esplanade Dr., Oxnard, CA 93036.
To reserve a room there, please call the hotel directly –

805.986.5353

and ask for Marissa Vanderwyck. You will not be able to book the room online via the registration site, please call the hotel directly.
Map of the Grand Tour start location (Holiday Inn Express)…
REGISTRATION PROCESS:
Thanks, to your efforts at carpooling and staying at the hotel we will be able to accommodate a limited number of additional riders for the event and will keep registration open through 4 pm on June 22nd. Here's how it will work:
You will need to register via the website ( Registration ) no later than

4 pm

on June 22nd.
When registering, choose the PayPal option (preferred) or if you do not have PayPal, choose the mail-in payment option, but you need to pay in cash at check-in. Do not mail payment.
Please make every effort to check-in

on Friday

evening the 22nd at the Holiday Inn,

3:30 – 9:00 pm.

We will notify you via email when registration is complete. We'll accommodate as many riders as possible, up to the limit of the parking permits.
Related to this we still need physical copies of the waiver signed and printed for our insurance carrier. Access the waiver here: Grand Tour Waiver. . You can mail them with your payment, or if paying via PayPal, you can bring them with you at check-in.
ROUTES AVAILABLE:
We will have the Century Challenge, Lowland Double, and Highland Double as available routes. Triple and Quad will be available for a limited number of riders. If you'd like to ride either, call Kermit at 310.367.0458.
For those of you interested in seeing an image of the revised routes, the Strava images of the Lowland and Highland routes are below.
Lowland Double Century…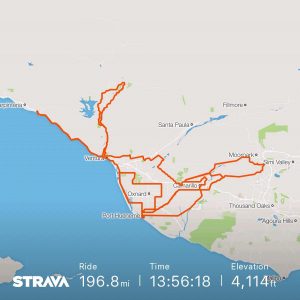 Highland Double Century…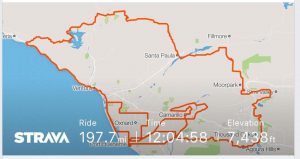 RIDE LIMITED TO 350 VEHICLES:
As noted previously, we're moving the start and finish to Port Hueneme. As Port Hueneme does not allow street parking between 10pm and 6am, the City of Port Hueneme has provided 350 parking spots for the event. The parking will be at their beach lots (most likely A, C, and E, further information will be posted on the website closer to the event), and some limited street parking. We will send you a parking permit no later than 2 weeks prior to the event with detailed parking instructions. Our thanks to the City of Port Hueneme for accommodating the event. Please be respectful of the City's guidelines. Additionally, to accommodate as many riders as possible, we'd like to encourage you to carpool. There's a dropdown box on the registration form. Please indicate if you are carpooling. We will also establish a waiting list to accommodate additional riders as circumstances change.
SLIGHT ROUTE CHANGES:
Since we're starting from Port Hueneme, we're adding in 2 loops, one at the beginning going from Port Hueneme to Camarillo and the other at the end going to Ventura to make up for the mileage lost between Malibu and Port Hueneme. The rest of the course is identical to years past.
JERSEYS:
We are providing a link on the website to order the 60th Anniversary Grand Tour jersey directly from our supplier. To view the jersey image and order online, please visit Grand Tour Jersey.
PAYMENT PROCESS:
You can pay by check or PayPal. If paying by check, your confirmation email will instruct you how to do that. PayPal will be available on the registration page.
IN CLOSING:
We appreciate everyone's patience as we get this year's event underway. You'll have the same great support (and many of the same staff), just a slightly different route. We look forward to seeing you there.
Please reach out to myself (ikucheck@nullgmail.com) or Kermit – 310.367.0458) with any questions.