The Grand Tour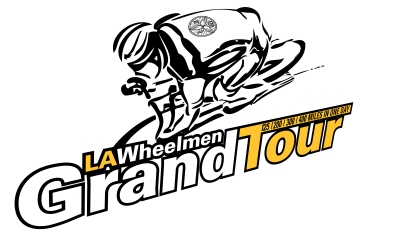 GRAND TOUR
Los Angeles Wheelmen
Double Metric   Double Century    Triple Century    Quadruple Century
124 miles   200 miles    300 miles    400 miles
Saturday, June 25, 2016
Registration begins April 1st,  2016
America's oldest Double Century, since 1959, the Grand Tour offers cyclists a rare opportunity to choose from among five fully supported distances: Double Metric, Lowland and Highland Double Century, Triple Century and Quadruple Century. Each year nearly 500 cyclists make the "grand tour" round trip from Malibu to Carpinteria and Santa Barbara to enjoy the challenge, the scenery and the Los Angeles Wheelmen hospitality.
All routes offer the best of scenic Southern California: beaches, valleys, mountains, luxury homes, orange groves, ranches, farms…
The Lowland Double Century is ideal double for a first-timer. It has fewer hills than the Highland route and more urban riding. From Malibu to Port Hueneme-Oxnard, Moorpark, Ventura, and Ojai for lunch. Continue to Rincon-Carpinteria, turn around and head for Port Hueneme, then back to Malibu with a tailwind on Pacific Coast Highway.
The Highland Double Century takes riders from Port Hueneme into the hills of Potrero in Thousand Oaks featuring a muscle-screaming one-mile climb. Then on to refreshments in Moorpark and the Grand Tour Café in Ojai. The route to Rincon-Carpinteria takes in more scenery, less traffic and sometimes more favorable winds circling Lake Casitas. Then homeward with a final stop in Port Hueneme before the last 37 miles to Malibu.
Triple and Quad Century riders follow the Lowland or Highland routes. From Rincon-Carpinteria, they continue north through Santa Barbara to the turnaround in Gaviota. Then straight down the coast to Malibu. Triple riders are home and can celebrate! Quad riders have one more century to complete.
The Quadruple Century is the ultimate 24-hour challenge for ultra-distance cyclists! From Malibu after a Lowland or Highland Triple, quad riders put their extra energy into a final 100-mile ride to Ventura and back.
The Double Metric Century Challenge is a shortened version of the Double Century that cuts the distance to 125 miles, but keeps the best scenery. This is a hilly, very demanding ride. From Malibu, the route begins climbing quickly at Latigo Canyon. Then on to Westlake, Lake Sherwood, and Moorpark for lunch. Century Challenge riders mix with Double riders in Port Hueneme-Oxnard and homeward along Pacific Coast Highway to Malibu.
The Grand Tour is always fully supported with frequent rest/food/water stops, sag vehicles, full lunch. Triple and Quad riders may be accompanied by registered private sag support in addition to full support from the Grand Tour. Double riders can rely on the Grand Tour for all their needs.
The Grand Tour is known for its great support – and for that we need grand volunteers. In fact, we need more than a century's worth! Veteran Vols agree that the Grand Tour offers a great day of action-packed activity along with enormous fulfillment from helping bicyclists reach their long-distance goals. The Los Angeles Wheelmen invites friends and family of Grand Tour riders and the Grand Tour ride itself to join the corps of volunteers from Malibu to Goleta, from Friday evening before the Saturday ride until the last riders return in pre-dawn Sunday. If you would like to help, please email the volunteer coordinator here.  For any questions about the Grand Tour please email your questions here.
The Grand Tour is one of the most popular rides in the California Triple Crown.