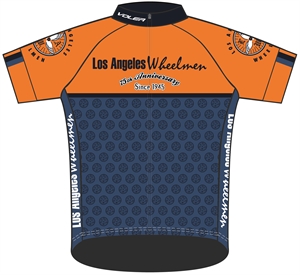 For the 75th anniversary since our club was founded, the Los Angeles Wheelmen Bicycle Club is now offering commemorative cycling apparel for sale from Voler. Please use the button below to access the Voler site where you can place your orders. The current second window for ordering will end on November 30th at 11:59 PM. Your order will ship on or before January 15, 2021.
A note on features of styles available…
Jerseys:
Here are the main differences between the Pro and Peloton jerseys feature wise: The Pro jersey will have a lighter, more breathable fabric, has a fourth zippered pocket, and a more streamlined armband.
The Pro Race jersey compared to the Peloton Race jersey, will be a little shorter in both the front and back, sleeves will be about 1.5 inches longer and waist will be an inch smaller.
The Pro Club jersey compared to the Peloton Club jersey, will be a little shorter in the back, chest will be a little smaller, and sleeves will be about 1.25 inches shorter.
Vests:
The wind vests have changed a little bit since 5 years ago but would recommend sticking with the same size for the thermal vest. The thermal vest is designed to be a little bit bigger than the normal wind vest because it is usually layered with other garments. The thicker material also will not stretch as much so it needs to fit a little looser. The other differences will be the extra length in the back to help with spray from the rear tire and the taller collar for extra warmth.