Route Descriptions
Note: Elevation profiles appear much steeper than they really are because of compressed space.
LOWLAND DOUBLE CENTURY:
The Lowland double century (200 miles) spends the most time along the comfortably cool coast. It travels up Pacific Coast Highway to Port Hueneme in Ventura County, inland to Moorpark, back out to the coast at Ventura, inland to Ojai for lunch, back to the coast at Rincon point at the very southwestern point in Santa Barbara County, south along PCH back to Port Hueneme rest stop, then back to the Start/Finish at Malibu. Total elevation gain is about 5,000 feet. See map and elevation profile below: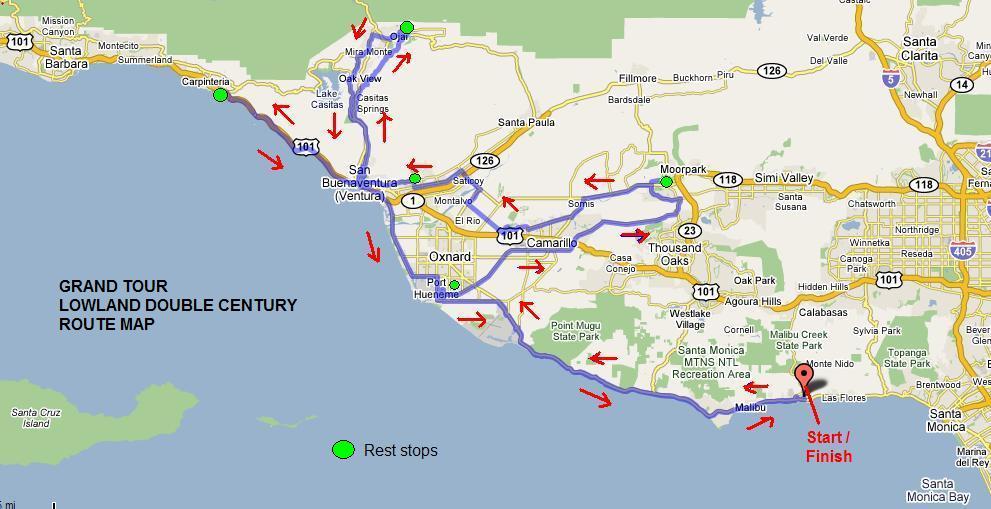 HIGHLAND DOUBLE CENTURY:
The Highland double century (200 miles) starts out the same as the lowland, but after the rest stop at Port Hueneme it heads inland to more rural, quieter and hillier back roads in Ventura County.The first challenge is riding up Potrero Road. Eventually it arrives in Ojai for lunch, after which it heads directly out to Rincon point via scenic Lake Casitas, then south along the same route as the lowland double. Total elevation gain is about 8,000-8500 feet. At the end of June, the weather can be very hot inland, so riders should be prepared with adequate hydration and electrolytes. The route sheets note extra rest stops where water is available. Map below: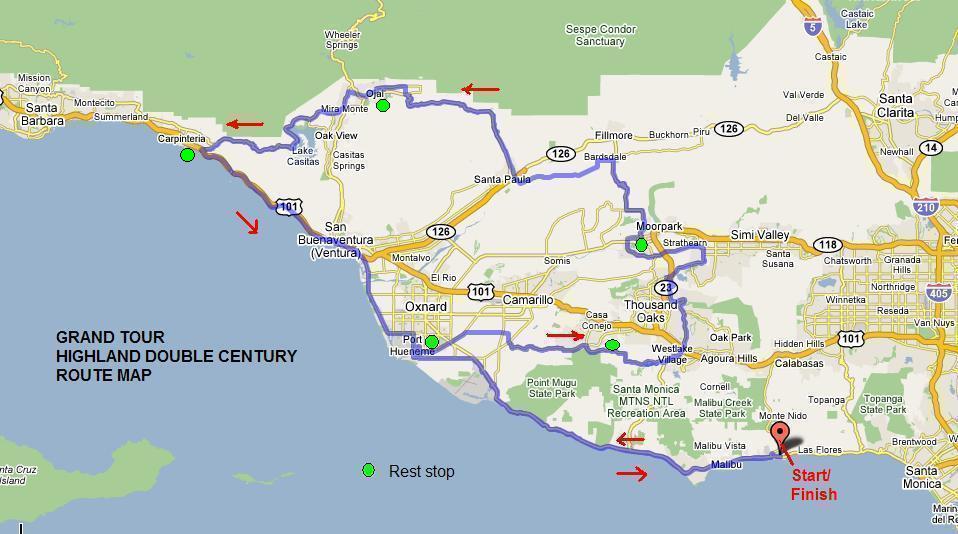 TRIPLE AND QUADRUPLE CENTURIES:
The Triple century (300 miles) (lowland or highland) follows the same route as the lowland or highland double century with a 100-mile extra loop in the middle. This loop starts at the Rincon checkpoint (140-mile mark) and travels northwest to Gaviota State Park in Santa Barbara County, with one midway rest stop in Goleta which riders encounter both outbound and returning. This loop is relatively flat, closely following the coast. Riders should be prepared for cool and possibly damp or foggy conditions at night. The Rincon and Hueneme rest stops feature hot soup. Below is the map of the 100-mile Rincon-Gaviota loop.
The Quadruple Century is the lowland triple century plus an extra loop of 100 miles from the start/finish in Malibu up to Ventura and back. Quad riders may have private SAG vehicles whose drivers are welcome to use our regular rest stops for a modest $5 extra fee.
100-MILE EXTRA LOOP FOR TRIPLE AND QUADRUPLE CENTURIES: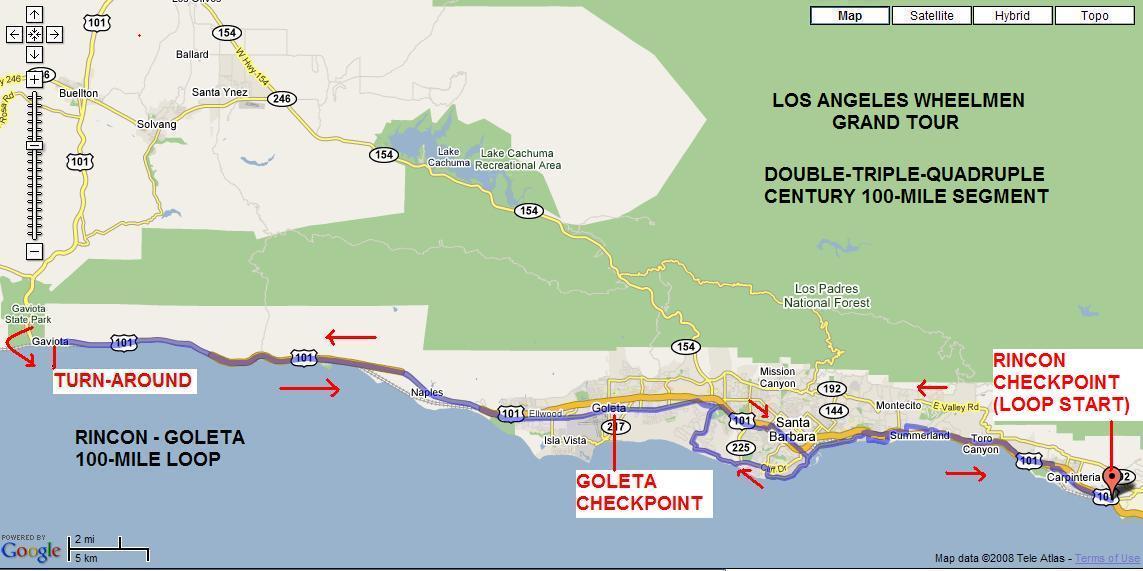 CENTURY CHALLENGE (DOUBLE METRIC CENTURY):
The Double Metric Century (200 km or about 126 miles) takes a completely different and challenging route from the other centuries. Total elevation gain is about 7,900 feet.